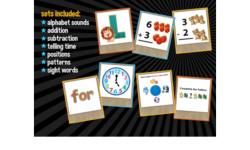 Portage, MI (PRWEB) January 22, 2013
Learning Gems' newest educational app, Flash Cards – Kindergarten helps to introduce or reinforce kindergarten level subjects for young children. The new app is available in the Amazon, Apple, Barnes and Noble and Samsung app stores as well as from Google Play.
Flash Cards – Kindergarten is a vibrant, exciting app that was developed to build confidence while reinforcing your child's comprehension and retention of grade level subjects. The app features cute characters and bright colors to capture a child's attention and comes with a variety of subject areas to practice that keep them engaged.
While playing Flash-Cards Kindergarten, youngsters can practice addition and subtraction of numbers through 10 where figures are expressed numerically and with complimentary images that appear in multiples reflective of the numeral displayed. Telling time is another subject, as are letters of the alphabet, including both pronunciations and letter sounds. Children can also practice completing patterns, recognizing common sight words and positions, such as above or below. The varying subject areas have their own unique set of more than 185 cards. Each time a subject is chosen, the cards are shuffled and appear in a different order to further expand knowledge through repetition and memorization.
This education app from Learning Gems makes a great follow-up their earlier version, Flash Cards – Preschool, and can be downloaded for $0.99.
Flash Cards – Kindergarten was developed and created by the Learning Gems team, which includes programmers, graphic designers, copywriters and school teachers who all share one common goal, to make learning fun. In addition to Flash Cards - Kindergarten, Learning Gems has several other educational apps that cover several subject areas, such as Spanish, spelling, U.S. geography, U.S. coins, shapes, colors, math, memory and more.
Learning Gems was created as a venture of Blue Fire Media, a company that designs and develops websites. In addition to web design, Blue Fire Media also devises Internet marketing strategies and SEO tactics for companies in a variety of industries.