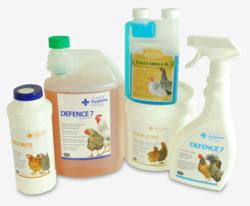 London (PRWEB UK) 22 January 2013
Loughton-based creative marketing company, Graphic Evidence, are commissioned on another project for The Animal Health company. Due to their history of success in launching new products to the pet and country sector, Graphic Evidence were the PR company of choice for the new range, Karma For Chickens.
The new Karma For Chickens range includes five key products that have been created to promote the well being of poultry, strong egg production and the safety and cleanliness of their coops. Their high quality new poultry product range combines products that are applicable for the owners of poultry.
The new poultry collection includes a DEFRA tested disinfectant, Defense 7 Concentrate that is effective against poultry and livestock diseases. The active ingredients can protect against bacteria and funghi for seven days after application. Defence 7 Spray provides a ready to use solution for hutches, coops and cages that prevents a number of poultry diseases. Also included in the new range are products that assist with the well being of poultry; particularly Calci Shell-D. This supplement has added calcium, magnesium and Vitamin D3 to help strengthen bone, beak and feather structure while encouraging healthy egg production. Further protection can be found in COOP-ZONE, a natural anti-bacterial bedding power that reduces moisture and ammonia. Plus, Red Mite Powder provides an essential repellent against insects, including red mite, which has been approved under the Control of Pesticides Regulation.
Graphic Evidence has implemented a comprehensive launch campaign, which includes: effective advert design and placement, copy writing for editorial placement and press releases, and relevant sponsorship. The Karma For Chickens range is available from all good retailers, or contact The Animal Health Company direct on 01787 476400.
Graphic Evidence are a full-service creative marketing agency with a wealth of experience in website design, branding, packaging design, design for print along with public relations. For more information please visit http://www.graphicevidence.co.uk