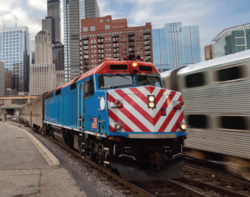 (PRWEB) January 23, 2013
After the recent introduction of a new rail band pass filter series for wayside bungalows, PolyPhaser Inc., a Smiths Interconnect business, today announces the release of three additional models specifically designed for locomotives.
PolyPhaser RRF Band Pass Filters effectively minimize noise problems by blocking unwanted signal interferences. Such noise problems are caused by a multitude of direct and indirect sources, such as passive intermodulation, cell tower, radar or power line interferences. Reliable data transfer with minimal signal interference issues, however, is critical to the successful implementation of Positive Train Control, a complex system of advanced technologies to enhance safety and uninterrupted traffic flow.
With more than -20dB return loss, less than 0.9dB (1.5dB for 450MHz model) insertion loss and more than -60bB out of band rejection, PolyPhaser Band Pass Filters provide the industry's leading signal integrity protection. In addition to the 160 and 220 MHz wayside models, Locomotive RRF Band Pass Filters are available for 160, 220 and 450 MHz frequencies.
All series models feature integrated high performance surge protection and frequency-coordinated colored labels to effectively reduce installation and maintenance complexities.
About PolyPhaser | Transtector
PolyPhaser | Transtector Systems lead the industry with a comprehensive product portfolio and specialized expertise in consulting, design and manufacturing of RF, AC, DC, data and signal surge protection, communications power cabinets, EMP protection and power quality engineering services. PolyPhaser | Transtector Systems provide valuable end-to-end power and signal integrity solutions for markets that include telecommunications, medical imaging, transportation, energy, security and the military.
About Smiths Interconnect
Smiths Interconnect http://www.smithsinterconnect.com is a leader in technically differentiated electronic and radio frequency products that connect, protect and control critical systems for the wireless telecommunications, aerospace, defense, space, medical, rail, test and industrial markets. It is part of Smiths Group http://www.smiths.com, a world leader in applying advanced technologies for markets in threat and contraband detection, energy, medical devices, communications and engineered components. Smiths Group employs around 23,000 people in more than 50 countries.
For More Information:
Susann Ferrari:
Transtector Marketing Specialist
Tel.: 800.882.6094
Email: susann.ferrari(at)protectiongroup(dot)com