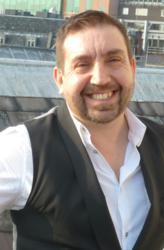 The coming year promises to be just as exciting and interesting for Superstars
London, UK (PRWEB UK) 23 January 2013
Superstars began in March 2011 with just four staff but achieved over 200% growth in 2012, allowing them to hire more staff and help more Talent. Superstars' four staff have grown to seven and new clients have opened up new opportunities to engage with new areas of work and new Talent eager to fulfill new roles.
As part of their growth in 2012 Superstars undertook a move to new premises in London's Covent Garden. Last year also saw the beginnings of a presence in New York and an office in Manchester.
Steve was interviewed extensively in 2012, appearing in print articles for Marketing Week and Forbes Magazine. Steve gave video interviews to freelance community Kindred HQ, talking about setting up Superstars and what makes him so ridiculously happy and to Kap.TV to spread the word about Superstars' unique take on staffing.
Steve is now into his second season of guest spots with Colourful Radio's "Life With Juicy Jaxx". Each week, Steve and Jaxx discuss the latest news affecting job hunters and he helps pick apart listener's career problems with his unique advice and insight.
In 2012, Steve talked about finding the motivation one needs to change career, how to tailor a CV for a role and how to conduct oneself in an interview. Among other topics, Steve and Jaxx discussed how the London 2012 Olympics had affected the job market, how employers can help job seekers and themselves by taking on apprentices and new regulations that affect temporary workers.
A particular highlight for Steve came in May, when he got the chance to appear with X Factor winner Alexandra Burke. Alexandra and Steve have been friends for over a decade and cite each other as inspirations. Alexandra said that Steve was able to motivate her at her lowest point.
"When I was deciding whether to go back for the X Factor and my mum and brother were persuading me, I said to Steve, 'Shall I do this or not?' Steve sat me down with a cup of tea and biscuits in his house and said, 'You would be STUPID not to do this! WHAT have you got to lose?' which was inspiring! It is always good to have good people around you."
To Steve, Alexandra is something of an inspiration too - he admitted to Jaxx that his friend's X Factor win was one of the things that spurred him on to make the leap and start Superstars. The hard work she put into achieving her far-from-overnight success is the perfect illustration of his approach to business. Listen again to the original broadcast here.
Superstars is about changing the way the staffing business works but Steve and the Superstars staff also want to change the way Talent go about finding their ideal role.
This was the motivation behind another of Superstars' major projects for 2013 - the launch of Mentors. Mentors are exactly what they sound like - professionals with a wealth of experience who are willing to share advice with people who want to work in their sectors. With just a few clicks, Talent will be able to book one-to-one meetings and receive the kind of advice and support that can not be found anywhere else. Mentors who have volunteered their time so far include the founder of Kindred.HQ, Alex Butler.
Steve used one of his last radio spots in 2012 to announce another exciting Superstars initiative. iStar is a web and smartphone app that aims to make it easy for clients to search for Talent to match opportunities in their organisations and to quickly see not just a list of likely candidates but also their availability, profiles and their current location.
iStar will help Superstars to create a 'dating strategy' for our clients and Talent, to contact each other and find each other using a unique GPS location service. iStar will launch in early 2013.
The coming year promises to be just as exciting and interesting for Superstars. Steve will be returning to Colourful Radio to give more advice and help to listeners. iStar will help Superstars to match more of their Talent with clients who need their skills and they will continue to change the staffing industry with their unique no-fees model.