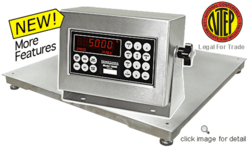 Olive Branch, MS (PRWEB) January 22, 2013
Industrial weighing scales are among some of the most useful and convenient measurement devices available to industrial professionals. These types of scales are used in wide varieties of business operations including warehouses of all sizes, dry chemical operations, fertilizer plants, and airlines.
New features have been added to Floor Scales Direct's line of industrial weighing scales. The new features available for the industrial scales will still come equipped with all of the convenient options and designs that previous models were well-known for. The new models will still have a 5,000 lb. capacity and will still be rated and designed for outdoor use. However, these new industrial scales will feature upgraded digital read outs that greatly improve upon the previous digital indicator.
The new digital indicator is just as easy to read and provides the same ease of use as previous models. However, new models will have upgraded features that simplify scale usage. One new feature that the new digital indicator is equipped with is the ability to automatically check weigh items for over/under weight items. Check weighs help ensure accuracy and consistency with large and small items or orders but more importantly it allows a scale operator to quickly and accurately weigh these items.
The new digital indicators will still weigh items in 1 lb. increments but the indicator will have a feature that now allows the operator to totalize the weight of multiple items. This feature was previously unavailable in earlier models and makes calculating the gross weight of several items much easier. This eliminates the chance for possible human error and gives the most accurate readout available.
Floor Scales Direct even provides a quick ship option for select model industrial scales. Quick ship allows Floor Scales Direct to ship your new scale within one business day. However, this feature isn't available for every model so be sure to look for the blue quick ship logo to see if a product qualifies. All industrial scales come with a one year limited warranty that covers any damage, labor, or part replacement.
Boiler plate: Floor Scales Direct is a division of Triner Scales. Triner Scales was founded in 1897 and is among one of the oldest and most respected scale manufacturers in the United States. Floor Scales Direct provides its customers with a wide variety of scales including drum weighing scales, axle scales, forklift scales, and platform scales. For more information visit http://www.floorscalesdirect.com.