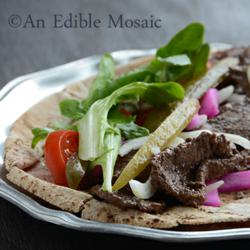 Traditional Middle Eastern sandwich made with Hashems spices.
Dearborn, Michigan (PRWEB) January 23, 2013
Due to an increasing demand from its customers, Hashems.com, a Middle Eastern retail food website, has partnered up with Faith Gorsky, author of the new cookbook An Edible Mosaic, to create the Faith Gorsky inspired recipes webpage.
These recipes are authentic Middle Eastern and have proved to be extremely popular. "Our customers immediately loved these recipes," said Sam Hashem, President of Hashems.
"Customers kept asking for Middle Eastern recipes, so we searched hundreds of food blogs and books and ultimately decided to partner up with Faith because of her delicious recipes and the way she puts a modern flair on Middle Eastern food, yet keeps recipes authentic at the same time".
"Our customers can now search our recipes page for their favorite foods like falafel, hummus, and shawarma and then purchase everything they need to make it at home". America has fallen love with Middle Eastern food because it's delicious, healthy, and easy to make.
Faith Gorksy is also the author of the food blog AnEdibleMosaic.com where people flock to see her amazing recipes and the wonderful photography of the dishes she creates. Her site is great because it's not just limited to Middle Eastern recipes. Creative dishes like pistachio-rosemary white pizza and cheese brownies often appear on the site.
Hashems has been in business for over 50 years, providing high quality Middle Eastern food products and roasting a full line of nuts and coffee daily. They have over 1000 Arabic food products and now have a full line of fresh baked baklava. Sam Hashem was also very excited about their new wholesale spice division. "We distribute spices to businesses throughout the United States and look forward to continued growth in the future."
Hashems would like to personally congratulate Faith Gorsky on the launch of her new book, An Edible Mosaic: Middle Eastern Fare with Extraordinary Flair, which can be bought on http://www.Hashems.com here: http://www.hashems.com/store/cookbooks/an-edible-mosaic-by-faith-gorsky.