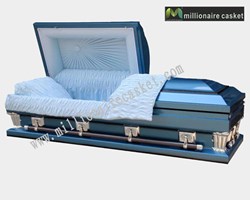 OEM service is available as well.
(PRWEB) January 22, 2013
Recently, MillionaireCasket.com, a leading casket company from China, has introduced its metal casket collection, so as to expand its production line and develop its overseas market.
These metal caskets are made from several kinds of metals, including bronze, copper, stainless steel, and so on. They are available in a variety of thickness and weight. Normally, bronze and copper metal caskets are often made from 32-ounce metal, and steel metal caskets can come in 16, 18, or 20 gauge metal. Moreover, OEM service is available at MillionaireCasket.com as well.
Zoe Wong, CEO of MillionaireCasket.com, said, "Our quality products come from quality construction, quality craftsmanship, quality hardware, and quality interior. The comprehensive ISO9001-2000 compliance quality control program allows us to develop and manufacture the best products in the industry."
Besides metal caskets, the company produces wood caskets, oak caskets, and so on. The company has its own stamping room, welding room, interior room, packing room, and a painting production line as well. Its production capability is about 3500 sets per month, and 40000 sets per annum.
About MillionaireCasket.com
Focusing on casket wholesale, MillionaireCasket.com is a leading casket manufacturer from China. This company is committed to offering customers high-quality products with best prices, offering all kinds of metal caskets, solid wood caskets, veneer caskets, cremation caskets, rental caskets, orthodox caskets, infant or over-sized caskets and European style coffins. The company hopes to produce more practical and popular caskets for the customers all over the world.