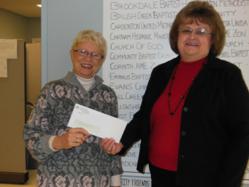 The employees and directors of Carolina Farm Credit are thankful we can positively impact the lives of many in need through our local charitable donations. This is a project our employees and board members look forward to participating in each year
Statesville, NC (PRWEB) January 23, 2013
Carolina Farm Credit, its employees, and board members donated over $4,900 to local charities in 2012. Over $3,900 was collected by employees and board members who participated in a charity contribution throughout 2012 and $1,000 was donated by Carolina Farm Credit. Each of the Carolina Farm Credit 36 service centers submitted a local charity choice and four charities were selected through a random drawing to divide the donations.
The following groups will receive donations of $1,242.25 from Carolina Farm Credit:
Family Services of Caswell County –Yanceyville, NC (Yanceyville service center)
Yadkin Christian Ministries – Yadkinville, NC (Yadkinville service center)
West Chatham Food Pantry –Siler City, NC (Siler City service center)
Youth for Christ –Roxboro, NC (Roxboro service center)
Family Services of Caswell County provides assistance to victims of domestic violence. Their services include a safe shelter, support groups, assistance completing Domestic Violence Protective Orders, advocacy, resource referrals, and transportation.
Yadkin Christian Ministries Yadkin Christian Ministries is a cooperative effort of churches, individuals and non-profit agencies whose mission is to share Christ′s love by providing daily necessities to the less fortunate in the local community. Each week, trained volunteers gather at the Yadkinville and East Bend locations to minister to people in need. Food is provided, and assistance with utilities, medicine, and many other necessities of life are made available.
West Chatham Food Pantry is an all-volunteer food pantry established in 2007 whose purpose is to feed the hungry throughout Chatham County. Qualifying families can receive food from the pantry's facility every 14 days. The pantry is a United Way partner and also supports Chatham County's FUEL up program – a weekend backpack program that provides grocery supplements to qualifying school-aged children.
Youth for Christ (YFC) is a ministry group that reaches out to local youth. YFC reaches young people everywhere, working together with the local church and other likeminded partners to raise up lifelong followers of Jesus who lead by their godliness in lifestyle, devotion to the Word of God and prayer, passion for sharing the love of Christ and commitment to social involvement. The Person County chapter has staff and volunteers in every high school and middle school in the county and is working with 140 elementary children in North and South Elementary in Person County.
Michael R. Morton, CEO of Carolina Farm Credit said, "The employees and directors of Carolina Farm Credit are thankful we can positively impact the lives of many in need through our local charitable donations. This is a project our employees and board members look forward to participating in each year."
Carolina Farm Credit is a stockholder-owned cooperative providing short, intermediate, and long-term financing to full and part-time farmers and agricultural-related businesses and also provides financing for the construction and purchase of homes in 54 counties through 36 service centers. Other financial services available are credit life insurance, crop insurance, appraisal services, leasing programs and financial planning.
Carolina Farm Credit serves over 8,800 members with loans outstanding totaling more than $1.3 billion. The association's territory covers the western half of North Carolina, with service centers located in Albemarle, Asheboro, Asheville, Boone, Burnsville, Carthage, Concord, Ellerbe, Graham, Hendersonville, Hillsborough, Jefferson, Lenoir, Lexington, Lincolnton, Marshall, Mocksville, Monroe, Murphy, Newton, Pilot Mountain, Reidsville, Roxboro, Rural Hall, Salisbury, Shelby, Siler City, Sparta, Spindale, Statesville, Taylorsville, Wadesboro, Waynesville, Wilkesboro, Yadkinville, and Yanceyville.
Directors for Carolina Farm Credit are Joseph A. Lail, Chairman, Shelby; Mark A. Bray, Vice-Chairman, Lawsonville; John M. Barnard, Statesville; E. Bernard Beck, Seagrove; W. Rex Bell, Statesville; David M. Coltrane, Pleasant Garden; W. Steve Love, Graham; Bobby J. "Bud" Matthews, East Bend; Clark M. Newlin, Haw River; Thomas E. Porter, Jr., Concord; Tony L. Ragan, Sanford; D. Kaleb Rathbone, Waynesville; Lewis E. Smith, Lincolnton; Vickie N. Smitherman, East Bend; L. Kim Starnes, Salisbury; Dr. Alton Thompson, Summerfield.