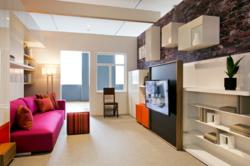 New York, NY (PRWEB) January 22, 2013
WHAT: Press preview of "Making Room: New Housing for New Yorkers"
WHEN: Tuesday, January 22 at 10 am
WHERE: The Museum of the City of New York, 1220 Fifth Avenue New York, NY
"Making Room: New Models for Housing New Yorkers," organized by the Museum of the City of New York in conjunction with Citizens Housing & Planning Council (CHPC), offers insights into how New York City's changing social, economic, and cultural lives, especially the rise of single adults, are re-shaping urban households, and how design can help re-shape the city's housing stock for New Yorkers at all phases of their lives.
The exhibition will present an array of innovative architectural solutions that would better accommodate the city's emerging housing needs. "Making Room" features a full-scale, "micro-apartment," fully furnished with transformable furniture, along with an array of other proposals to provide new housing options for a 21st century population – including shared housing for single adults and adapted homes for extended families – as well as a look at real-life examples pioneered in other cities around the world as they face growing populations and changing family structures and new environmental realities.
"Making Room" will also include several innovative designs submitted to New York City's adAPT competition. In July 2012, the City issued a Request For Proposals (RFP) for developer/architect teams to design a building of micro-units for small households, meaning one- to two-people. The winning submission will be developed on a site on East 27th Street in Manhattan, and will test this new housing model in the New York City marketplace.
A highlight of the exhibition is the full-scale micro-apartment, giving visitors the ability to step into – and walk through – an innovative solution that could help New York accommodate the city's booming single population. The actualized micro-unit, ingeniously designed and furnished by Clei s.r.l. and Resource Furniture and with architecture by Amie Gross Architects, will change through the course of the day during special demonstrations at the Museum, morphing to the occupant's needs. With transformable furniture, such as tables, bed systems and seating, space is utilized efficiently and creatively.
Examples of innovative housing types that are being built across the country and globe, including San Diego, Montreal, Seattle, and Tokyo, are also detailed in the main exhibition space. Japan has long been recognized as a leader in creating small, well-designed living spaces and the exhibition showcases several compact homes recently built in Tokyo.
The exhibition will also highlight the work of five design teams that came out of a challenge CHPC launched in partnership with the Architectural League of New York in 2011. The teams' proposals explore a multitude of new housing types, including mini-studios for single adults, new shared housing options, and accessory units for extended families.
ABOUT THE MUSEUM OF THE CITY OF NEW YORK
Founded in 1923 as a private, nonprofit corporation, the Museum of the City of New York celebrates and interprets the city, educating the public about its distinctive character, especially its heritage of diversity, opportunity, and perpetual transformation. The Museum connects the past, present, and future of New York City, and serves the people of the city as well as visitors from around the world through exhibitions, school and public programs, publications, and collections. http://www.mcny.org.