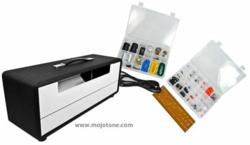 Burgaw, NC (PRWEB) January 21, 2013
Of all the unique projects that are rapidly springing to life at the Mojotone® headquarters in Burgaw NC, the most recent and perhaps the most exciting is the new 50 watt Bass Amplifier Kit. Designed with a "keep it simple" mentality, this kit is meant for the bassist in need of a great sounding, all tube amplifier without the excessive weight. At a meager 30 lbs., this bass amp is a shining example of maximum efficiency in the tube amp world.
In keeping with this simplicity, the control panel is as straight-forward as they come. The "Gain" knob controls how much the preamp section is driven, the "treble" knob adjusts the level of the high frequencies in the signal, the "bass" knob controls the lower level frequencies, and the "master" knob controls the overall output volume of the amplifier. In addition to these controls, there is a "Mid-Shift" control that shifts the midrange response from a flatter sound to a more "scooped" midrange response.
Using the "gain" control, one can take this amp from pristine cleans all the way to powerful overdriven and gritty bass tones. With 2 KT66 power tubes, 2 12AX7 preamp tubes, and a solid state rectifier, this bass amp is sure to deliver what any bassist needs out of an amp, without all the heavy lifting. The Mojotone® 50 Watt Bass Amp Kit is available for purchase now at http://www.mojotone.com.
About the company:
Mojo Musical Supply™ has been in business for over 18 years as an amplifier cabinet manufacturer and amplifier parts supplier. Through the years, the Mojotone® line has grown to include all parts of the vintage, boutique and current production tube amp market. In addition, Mojo offers a complete line of guitar parts, pickup parts and guitar restoration supplies - including their own line of Mojotone® Custom Wound Pickups and a Signature Series featuring pickups designed by renowned techs, Lee Dickson and René Martinez.
Having both East and West coast manufacturing centers, Mojo Musical Supply™ builds cabinets for over 100 boutique amplifier companies and routinely ships over 1,000 cabinets a month. Their quality is unsurpassed and their experience in guitar amplification, technical design, and customer dedication is outstanding. Mojo Musical Supply™ is committed to the highest standards of integrity, excellence and performance in dealing with both their client companies and individual customers. For more information visit their website at http://www.mojotone.com.