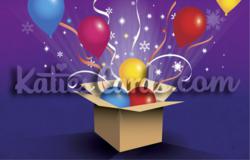 KatiesCards.com has seen increased levels of subscribers and business clients in 2012.
London, UK (PRWEB) January 22, 2013
Today, UK provider of Ecards http://www.Katiescards.com ("Katie´s Cards") announced record results across its Christmas, New Year and Thank You e-cards, contributing to a dramatic increase in subscribers and impressive growth in corporate customers.
David Halliwell, Marketing Manager at KatiesCards.com, believes that the successful Christmas period can be attributable to a great range of Christmas ecards and growth in the corporate market. "KatiesCards.com has seen increased levels of subscribers and business clients in 2012. Our Christmas e-cards offer unique, high quality and fun greetings that our customers enjoy sending. We have also put a lot of effort into making our self-service platform simple to use and as fast as possible."
Corporate customers can now select a card template, upload a logo and message and can execute their campaign in just a few minutes. Katiescards.com also allows users to upload their mailing list in a spreadsheet form, enabling thousands of cards to be distributed at the press of a button.
"Organisations are really seeing the benefit of sending electronic cards with a personal message alongside their corporate branding," continued Halliwell. "As well as being environmentally preferable to physical cards, it is possible to track the success from start to finish for a clear calculation of return on marketing investment."
The company saw the largest growth in the number of subscribers over the period since KatiesCards.com's inception in 2009, as users opted to send Christmas e-cards to clients, staff and other stakeholders. The increase in Thank You e-card and New Year e-card sales also contributed to the impressive figures, companies are now extending their use of cards to support product launches, marketing campaigns and internal communications initiatives.
"We have witnessed a superb period and look forward to increasing our customer base even further, as word-of-mouth referrals and marketing efforts continue into 2013," concluded Halliwell. "It's a very exciting time for our business and we're delighted to have seen such a positive start to the year."
January 2013 has already seen an interest in e-cards celebrating the Chinese New Year; distinctive and stylish cards including the serene 'Lanterns'.
ENDS
About Katie's Cards
KatiesCards.com provides e-cards to a growing number of subscribers and business clients globally. With over 200 e-cards to choose from, including Christmas e-cards, New Year, Birthday e-cards, Easter, Wedding e-cards and Valentines Day. KatiesCards.com was founded in 2007 and is based in Teddington, near London, UK.
For more information on KatiesCards.com please visit: http://www.katiescards.com.
Company contact details
http://www.katiescards.com
35 Wick Road
Teddington
TW11 9DN
United Kingdom
+44 (0) 20 8274 2069