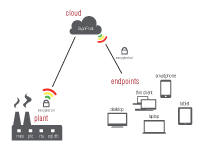 a powerful force to drive production efficiency and innovation
Saint Louis (PRWEB) January 23, 2013
Leading manufacturing organizations will now be able to achieve a competitive advantage by turning detailed production data into actionable information that can be accessed from any internet-connected device (desktop, laptop, tablet, smartphone) on demand. Ultimately, the partnership provides a means to use "the cloud" to store and transmit key manufacturing information securely to stakeholders across the globe in real-time.
Prozess is a leading supplier to the highly-regulated pharmaceutical manufacturing industry and counts 16 of the largest 20 global pharmaceutical manufacturers as customers. This industry foothold provides a natural starting point for the new manufacturing intelligence solutions.
"As the pharmaceutical manufacturing world becomes more distributed with contract manufacturers, faster-paced with continuous manufacturing, and more connected to manufacturing and corporate information systems, the need for advanced communications technology increases dramatically," stated Randall Kruep, CEO of Prozess Technologie. "Our intention is to equip forward-thinking manufacturers with the tools they need to accelerate their progress and make their production operations more efficient, more robust, and more profitable."
"The Applied Group is excited to work with Prozess Technologie to bring the flexibility, convenience, and power of web-based handheld technology to the process world," stated Dino Busalachi, Director of Unified Automation for Applied Group. "Applied believes that the combination of the Prozess PAT experience and technology, combined with the leading-edge, real-world implementation skills of Applied, represents a powerful force to drive production efficiency and innovation in the process analytics market."
PAT solutions of Prozess Technologie combined with the real-time manufacturing intelligence systems of Applied Group are available now and are being demonstrated live at the IFPAC show in Baltimore, MD. Please contact Prozess or Applied for more information.
PROZESS TECHNOLOGIE
Prozess Technologie enables its customers to understand and control their manufacturing processes in real-time. The company creates optical spectroscopy systems to increase quality, yield, and productivity while reducing risk and downtime in the manufacturing environment. Customers can gather, process, and interpret data in milliseconds while viewing the data securely from wherever they are as part of an enterprise wide continuous process system.
Prozess Technologie integrated hardware and software solutions are in use across the world by manufacturing customers in the pharmaceutical, food and beverage, and petrochemical sectors. The Company is a closely held, private organization, owned by investors and employees, operating out of Silicon Valley, California and Saint Louis, Missouri.
THE APPLIED GROUP
Founded over 30 years ago, the Applied Group is a consultative, advanced technology organization that takes a strategic, "business-first" approach to solving real-world business issues. The Company is focused on providing innovative, value-driven technology solutions for the Manufacturing, Healthcare, Financial Services, and Casino Entertainment industries and maintains key partnerships with Cisco, Microsoft, NetApp, Hitachi Data Systems, VMware, Rockwell Automation, Wonderware and Panduit. Applied's solutions positively impact the profitability and efficiencies of their clients, thereby maximizing Return on Investment. By first understanding the business needs of their clients, they can apply expertise and insights with industry best practices, process design and appropriate technologies to satisfy those needs.
Applied is a private organization headquartered in Saint Louis, Missouri.