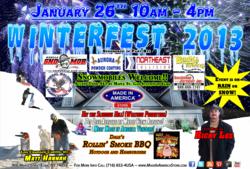 Elma, NY (PRWEB) January 22, 2013
Not a stranger to the Made In America Store's events, Ricky Lee brings his upbeat Country lyrics and fun stage performance to the 2013 Winterfest.
January 26th, 2013, kicks of the Made In America Store's Winterfest, which hosts live performances, food catering, vendor displays and more family fun. The free event starts at 10am and goes until 4pm and is located right at the Made In America Store (900 Maple Street, Elma, New York 14059).
The event will be catered by Dale's Rollin' Smoke BBQ where they will be serving Hotdogs and Hamburgers. Matt Hannah from Insane Chain will be doing live chainsaw sculpting demonstrations.
Nashville recording artist Ricky Lee has performed for enthusiastic audiences since the young age of 16. Born and raised in the railroad town of Altoona, PA, Ricky Lee has written more than 300 songs to date. With four CD's under his belt and a fifth underway, Ricky Lee isn't showing any signs of slowing down.
Thanks to his collaboration with Made in America Store owner Mark Andol, Ricky Lee's "Freedom" CD is the first album that is 100% made in the United States. As the sponsored entertainer for VFW National, Ricky Lee headlined the VFW's 111th National Convention in Indianapolis in 2010. Ricky shows his support for those who make freedom possible by donating $5 from the sale of each "Freedom" CD to the VFW's Military Assistance Program.
Ricky Lee brings 3 separate albums that are 100% U.S. made! Visit the Made In America Store today for a copy.
Ricky Lee has performed at Brooke Army Medical Center in Texas, Fort Carlson in Colorado, Walter Reed Medical Center, and for the participants in the Bataan Death March Reenactment at White Sands Missile Range, New Mexico. Sponsored by the Made in America Store, he has sung at the Buffalo and Erie County Naval and Military Park, Veterans' Day at the Erie County Fair in 2010 and 2011, opened for big name acts including Lynyrd Skynyrd, Gretchen Wilson and even Randy Houser.
The Made In America Store is the only brick and mortar store that sells 100% made in the United States products from over 350 vendors. Consumers can visit http://www.MadeInAmericaStore.com or call 716-652-4872 to get more information or shop our catalog of over 3,500 items. Both Active Duty Military Personnel and U.S. Military Veterans receive a 10% discount every day. Followers of the "Made In America" movement can keep updated with the Made In America Store through Facebook, Twitter, Google+, Pinterest, FourSquare and even their own blog on Wordpress!