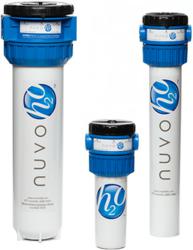 Seattle, WA (PRWEB) January 21, 2013
As part of this initiative, DNA has developed a new e-store for nuvoH2O at http://www.nuvoh2o.com/ as the hub of the multi-channel commerce solution. To drive traffic to the e-store, DNA will conduct a complete online marketing program including search engine marketing, email and affiliate marketing.
DNA also manages sales all online marketplaces for nuvoH20, with optimized content and promotions on sites such as Amazon, EBay and 16 other marketplaces.
DNA is working jointly with Cesari Direct to handle Direct Response TV (DRTV) marketing for nuvoH2O. Cesari Direct produces short form and long form direct response TV content, and plans and places broadcast media for nuvoH20. DNA has produced custom landing pages for nuvoH2O to convert DRTV web traffic. Phone orders from DRTV flow through DNA's unified order, payment and fulfillment system.
According to David Duke, e-commerce director of nuvoH2O, "working with DNA Response is like having one-stop shopping for all of our online commerce needs. It is much less time consuming to work with one team of experts than to manage several different partners. DNA charges no fees for their services; they take a share of the revenue generated so there is no risk for nuvoH2O."
Ranjit Mulgaonkar, CEO of DNA Response, says "We are delighted to be able to help nuvoH2O grow their business by marketing the products on multiple on-line channels. Our clients appreciate getting electronic fund transfers every two weeks for the revenue we generate with the multi-channel online commerce solutions we build for them."
About DNA Response
DNA Response, Inc. (DNA) provides turnkey multi-channel commerce, online marketing, order management and fulfillment services to product marketers. DNA generates incremental revenue for its clients by selling their products directly to consumers on online marketplaces, e-stores, direct response TV, home shopping networks, TV shows, big box retailer sites and deal sites. DNA provides universal order management for processing orders in real time from all the sales channels with full visibility to the business for the clients.
About nuvoH2O
The nuvoH2O systems were developed from this extensive commercial experience and include the same rigorous performance benefits for your home. The innovative, compact nuvoH2O salt-free water softeners are uniquely effective in softening your water while removing existing scale buildup from your pipes, fixtures, and appliances.