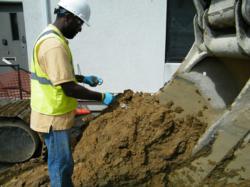 a performance-based approach is the most effective way to achieve site closures
Millersville, MD (PRWEB) January 22, 2013
LRS Federal (LRS), as managing member of the ARGO/LRS joint venture, was awarded a $23M contract to provide environmental remediation services at seven United States Air Force installations. The Air Force Civil Engineer Center awarded this contract to address soil and groundwater contamination at 102 sites on Air Force bases in South Dakota, North Dakota, Idaho, Missouri, Nebraska and Wyoming.
The scope of this eight year contract requires LRS Federal to provide a full range of engineering and construction activities necessary to achieve minimum performance objectives to support progress for site closeout at these contaminated locations. The Air Force is interested in substantial reduction of long-term environmental liabilities and life-cycle costs through accelerated achievement of site closeout and optimization of environmental restoration activities for all sites while complying with applicable federal, state and local laws and regulations.
"The Air Force was our first and most enduring customer, so it is especially gratifying to receive this substantial contract award to continue our support of the Air Force mission," said Tom Scott, LRS Federal President. "Most importantly, we are excited to be supporting the Air Force's Performance-Based Remediation program. This program is a focus for our company and we are fully committed to demonstrating that a performance-based approach is the most effective way to achieve site closures. By aligning all of the stakeholders toward a common objective while removing unnecessary obstacles and integrating effective technologies, we can find solutions that result in real progress toward cleaning up and closing these sites."
LRS Federal, a Service-Disabled Veteran-Owned Small Business (SDVOSB), with headquarters outside Annapolis, Maryland supports federal projects nationwide with a focus on engineering, construction management, environmental services, "green" energy initiatives, and program/project management support.