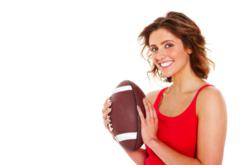 46% of television viewers who tuned into Super Bowl 46 were women, according to Nielsen Media.
Dallas, TX (PRWEB) January 22, 2013
An estimated 110 million viewers will tune into Super Bowl 47 on February 3rd, and another 70,000 lucky fans will pack the Mercedes-Benz Superdome to watch the game up close. Traditionally, football's biggest game has been reserved for the guys, but the Super Bowl is increasingly popular among female viewers. In fact, 46% of television viewers who tuned into Super Bowl 46 were women, according to Nielsen Media. Even so, many women still don't know much about football and may feel left out of the action on Super Bowl Sunday. Fortunately, the new eBook Super Bowl 47: The Girl's Guide to the Big Game provides a wealth of information and fun tips to ensure those new to football have a blast during this year's championship.
Available exclusively for Kindle, the new eBook includes an in-depth look at the contenders for the big game and details about the broadcast and this year's entertainers, Alicia Keys and halftime show performer Beyoncé. In addition, the eBook offers a primer in the rules of football, a brief history of the Super Bowl, a run-down of Super Bowl 47 events in New Orleans, recipes for game-day fare, and tips from celebrity event planner and radio personality Steve Kemble on throwing a successful Super Bowl Bash.
"If you want to have the best party of them all, you've got to get in the mood. Think pom-poms, streamers, whistles and hats," says Kemble, who has demonstrated his DIY party ideas on CBS' "Early Show," "Good Morning Texas" and E! Entertainment Television. Kemble's Super Bowl Sunday decorating tips featured in the eBook include using white tape to create yard lines on a strip of AstroTurf for a fun football-themed table runner.
Although written for women, Super Bowl 47: The Girl's Guide to the Big Game is a great resource for any football novice. With easy-to-understand descriptions of the different positions and the rules of the game, as well as intriguing details about this year's championship teams, even the novice football fan will get caught up in the action on the field. Written by Leslie J. Thompson and Ross Smeltzer and published by GWHQ Productions, LLC, the eBook is available in the Kindle Store on Amazon.com for $2.99.
About the Authors
Leslie J. Thompson has been a successful journalist and marketing writer for 20 years and has extensive experience writing for magazines and websites across a range of industries. She admits that she knew very little about football prior to moving from New York City to Dallas, Texas in 2003. Although she now follows the Dallas Cowboys, she still considers herself a greenhorn on the game. For this reason, Thompson was excited to rely on the expertise of Ross Smeltzer, a talented freelance writer, football fan, and longtime follower of the Baltimore Ravens. This is their first eBook collaboration.
About GWHQ Productions, LLC
GWHQ Productions, LLC is a multimedia marketing and video production company based in the Dallas Metroplex. The company specializes in content marketing, website design, mobile app development, and HD video production.