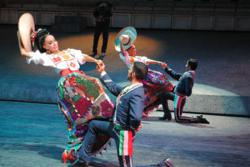 Mexico City, Mexico (PRWEB) January 23, 2013
http://www.experienciasxcaret.com Xcaret México Espectacular, the most representative stage show about our country's history and folklore, which has been enjoyed by over 11 million spectators for more than a decade at the Gran Tlachco Theater, will say goodbye at the end of 2013, to be substituted by a different and totally new show, designed to overcome its predecessor's success.
The announcement was made by the Vice-president of Experiencias Xcaret, Carlos Constandse Madrazo, who highlighted that, with a remarkable success, this presentation has left its mark on several generations of both Mexicans and foreigners, who had the chance to enjoy this perfect portrait of our identity.
This presentation began in 1995 and it's been greatly successful ever since due to its commitment to enhance the culture and traditions of Mexico's different regions. Featuring more than 300 artists, this is Mexico's most important show of its kind. Since March 2002 it has been presented at the Gran Tlachco Theater, specially designed for this celebration.
Thus, as a tribute to the former stage show "Xcaret Noche Tradicional", there will be a period of special presentations from May 27th to June 8th, from August 19th to October 22nd and from November 20th to December 20th, at Xcaret park. Meanwhile "Xcaret México Espectacular" will be presented normally, alternating dates with the "Noche Tradicional" performances.
"XENOTES" TOUR LAUNCHED
Accompanied by Lizeth Álvarez Gorosave, Experiencias Xcaret's Commercial Director, Constandse Madrazo also informed the May 2013 launch of the new Xenotes Tour which will offer a unique experience in the Puerto Morelos' Cenotes Route, Quintana Roo, visiting 4 sinkholes on the same day. All of them are enchanting sites with unique characteristics, fully respectful of the environment and with activities and services that offer the quality Experiencias Xcaret is known for.
"At the close of 2012 the number of visitors to our Parks and Tours surpassed 2 million, 290 thousand, 13% above the year before. Growth reports in the Cancun-Riviera Maya destination during 2012 have shown a 12% growth in comparison to 2011", stated Lizeth Álvarez.
Carlos Constandse informed that the investments made in 2012 to strengthen the range of services are the most significant in the history of the group, amounting to 321 million pesos. At the same time, the investment to be made in 2013 amounts to 315 million pesos.
He also mentioned that Experiencias Xcaret ratifies its commitment to be a leading organization in sustainable tourist entertainment, which compels it to always strive for excellence financially, socially and environmentally. This is confirmed by the certifications it has obtained after being evaluated in its commercial and financial performance, its working environment, its social responsibility, its bond with suppliers, as well as its correct use of natural resources. All of the above gives it a high level of competitiveness when facing with the vitality of the international tourist sector.
For further information:
Iliana Rodríguez
Chief PR and Communications Officer
irodriguez (at) experienciasxcaret (dot) com.mx
Cel: 044 (998) 845-5644