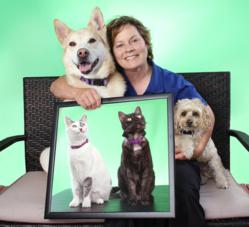 Enhance your relationship with your pets!
Dallas, Texas (PRWEB) January 23, 2013
Three years ago, a young stray cat garnered headlines in Dallas as a victim of a brutal knife attack that nearly cost her life. Thanks to compassionate pet rescuers, this cat received medical care and recovered. Today, this cat, then known as Edwina but now called Zeki, will mark her triumphant homecoming to Dallas Jan. 25-26 as she accompanies her owner, nationally renowned pet expert Arden Moore.
Zeki will join Moore in providing an in-depth dog and cat behavior workshop plus hands-on pet first aid classes in Dallas. For details on how to register for these events, please visit http://www.pcpsi.com/events
Zeki and Arden Moore's trip is being hosted by Park Cities Pet Sitter, Inc., a Dallas pet sitting mainstay that has set the standard for personalized pet care in the Dallas area since 1992.
"After watching Arden's presentation at the recent Pet Sitters International conference, I knew we had to bring her – and Zeki – to Dallas," says Joette White, President of Park Cities Pet Sitter, Inc. "Arden really knows how dogs and cats think, and how to achieve harmony in your pet household. She also knows pet safety and will be certifying 20 of my employees in pet first aid."
Moore will host a two-hour public dog and cat behavior workshop set for 11:30 a.m. to 1:30 p.m. Jan. 26 at the Ridgewood Belcher Recreational Center, 6818 Fisher Road, Dallas, In her entertaining, engaging style, she will address a variety of perplexing and puzzling pet behaviors. Tickets are $25. To register, call 214 324-6999 or email Courtney(at)pcpsi(dot)com, or visits http://www.pcpsi.com/events.
"I travel all over North America to help people better understand why their dogs and cats do what they do," says Moore, author of the best-selling books, The Cat Behavior Answer Book and The Dog Behavior Answer Book.
Moore, of Oceanside, Calif., is the founder of Four Legged Life.com and creator of National Dog Party Day. She has had dogs and cats all her life, but never one quite like Zeki.
"Zeki has transformed from being a scared stray to being a confident cat who revels in her role as my feline teaching assistant," says Moore. "This will be a wonderful homecoming for Zeki. She and I will also be personally thanking those who saved her life and aided in her recovery."
ABOUT ARDEN MOORE -- Founder of Four Legged Life.com and creator of National Dog Party Day, Arden Moore is known as The Pawsitive Coach™. She is an animal behavior consultant, best-selling author, professional speaker, media consultant and certified pet first aid master instructor. She has authored 24 pet books. Each week, she hosts A-list celebrities and top pet newsmakers on her Oh Behave! Show on Pet Life Radio.com, drawing more than 800,000 loyal listeners. She shares her Oceanside, Calif. home with rescue dogs, Chipper and Cleo, cats, Murphy and Zeki and an overworked vacuum cleaner. To learn more, please visit http://www.fourleggedlife.com
ABOUT ZEKI THE COOL CAT – This spunky survivor is a media darling with her own Facebook Fan Page (Zeki the Cool Cat) and has been featured in Cat Fancy, Catster.com, wowed crowds at SuperZoo in Las Vegas and mingled with celebrities Jackson Galaxy, Victoria Stilwell and Hall of Fame baseball pitcher Orel Hershiser. To learn more, check out her video bio on YouTube: http://www.youtube.com/watch?feature=player_embedded&v=ZzxVO5gq6PY.
ABOUT PARK CITIES PET SITTER, INC – Park Cities Pet Sitter has been setting the standard for personalized pet care in the Dallas Metroplex since 1992. Their pet sitters are employees, who are background checked, bonded and insured, and prepared for emergencies. Their motto is: "We take care of the family you leave behind!" To learn more, please visit http://www.pcpsi.com.