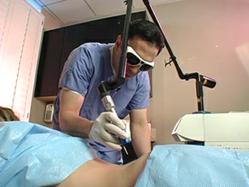 As the popularity of tattoos has mushroomed, so has the need to help those that want a tattoo removed.
Los Angeles, CA (PRWEB) January 21, 2013
"I see the end-result of bad decision making, i.e. bad, unwanted tattoos, in my practice nearly every day," says Dr. Ourian, Epione's Medical Director. "This study offers an explanation of our thought process as we walk into the tattoo parlor. Their thesis is very thought provoking: the belief that all our changes in thought and taste have taken place in our past coupled with our inability to see that similar changes will continue to happen leads to mistakes based upon underestimating how much we'll actually continue to change."
Usually, people regard the future as being more similar to the present and ignore how much they have altered through time. At least, that's what a recent Harvard University and Virginia University study, named "The End of History Illusion", states. The author of this study, psychology professor Daniel Gilbert, says that the belief that all of our changes have occurred previously results in prediction errors, like when a twenty year old decides to have a tattoo -- incapable of believing that the novelty will expire one day. (go to: goo.gl/WE8dQ)
Regardless of the validity of this theory it is undoubtedly true in Dr. Ourian's clinical experience that more patients are coming to see him for laser tattoo removal. "The cost and time required for laser tattoo removal is dependent on several factors," explains Dr. Ourian. "Obviously it will take more time to treat a larger tattoo but it's also the colors involved that determine the number of sessions that may be required. Generally, blue and black inks are the easiest to treat and yellow and red the most difficult."
For more information about this study and laser hair removal please see Tattoo Removal: Erasing Mistakes.