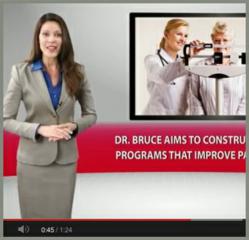 SBN Videos are a powerful marketing tool and also the preferred avenue of major search engines
(PRWEB) January 24, 2013
Louisiana is the ideal environment for business ideas to transform into flourishing organizations. Driven by knowledge and expertise in the industry and nurtured by effective marketing strategies, businesses embark on their road to success. Louisiana State Business Network understands the challenges entrepreneurs are faced with and provides the necessary tools that will enable them to maximize their business' potential.
As a business development and networking expert, Louisiana State Business Network delivers to members the marketing support that they require. In their efforts to provide a continuous flow of unique business opportunities for members, LA-SBN promotes personal branding as a vital competency.
Personal branding is concerned with the way businesses communicate their message to the target audience while strengthening their credibility and reputation on the market. Within this context, personal branding becomes an essential component of development strategies and offers companies more than just positive publicity; it builds up sustainable brand equity.
Louisiana State Business Network delivers various branding vehicles that members can use in their endeavors:
Personalized Action Website - A personalized action website is the ultimate form of digital branding that showcases members' achievements, products, services, and special offerings. More importantly, their membership with Louisiana State Business Network makes them part of a network of state accredited websites, which will ultimately drive more targeted traffic to their business and increase their chances of converting visitors into loyal customers.
Video Release - Statistically, 70% of the Internet is made of images, which makes videos a very powerful marketing tool and also the preferred avenue of major search engines. Louisiana State Business Network understands the impact of video releases on branding and how it can boost career and business development. Thus, they will create an exclusive video featuring the greatest accomplishments of their members to millions of potential customers. Syndicated through accredited media channels and placed on major social networks such as YouTube and Yahoo, video releases are one of the most effective tools to raise brand awareness, strengthen credibility and promote products and services.
Social Media Setup - In today's age of digital era, social media is more and more recognized as one of the most effective marketing avenues as a result of its remarkable ability to transform a simple post into a global trend. MO-SBN's experts in traffic generation will place members and their business on major social media platforms to increase their visibility.
About Louisiana State Business Network
Louisiana State Business Network (LA-SBN) is a career and business development program established to promote job growth, commerce and networking. It is equipped with the tools, expertise and connectivity to help businesses expand their influence while forging strategic alliances necessary to attain higher levels of achievement. With its integrated infrastructure, LA-SBN holds a powerful online platform for building fundamental connections on a local, state and national scale.