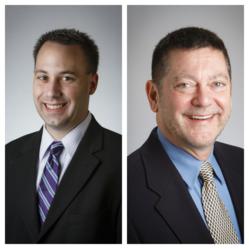 "We are honored to have Jon Copley and Dr. Teichman lead our initiatives in Kentucky."
Dayton, Ohio (PRWEB) January 21, 2013
CareSource, a non-profit, managed health care company, has hired Jon Copley as the new Executive Director and Jeb Teichman, MD, as the new Medical Director in Louisville, Kentucky. Both serve as directors for the Humana – CareSource™ alliance in Kentucky.
Earlier this year, the Kentucky Cabinet of Health and Family Services selected the Humana – CareSource alliance to participate in its comprehensive managed Medicaid program in "Region 3" – serving Medicaid recipients who reside in a 16-county region including Louisville. Temporary Assistance for Needy Families (TANF) and Aged, Blind and Disabled (ABD) program enrollees (including individuals dually eligible for Medicare and Medicaid) are covered under the state's managed Medicaid program.
Copley comes to CareSource with more than 10 years of legal and operational management experience in the health care industry. He was most recently the Director of Plan Operations at Kentucky Spirit Health Plan and is responsible for leading the business operations, providing strategic leadership and developing relationships in Kentucky.
Dr. Teichman brings more than 26 years of medical experience and comes to CareSource as a pediatrician from Clark Physicians Group, Jeffersonville Pediatrics, in Jeffersonville, Indiana, and a Medical Reviewer from CareWise Health in Louisville, Kentucky. In his new role, he provides review and care management support to clinical programs and activities in Kentucky.
"We are honored to have Jon Copley and Dr. Teichman lead our initiatives in Kentucky," said Pamela Morris, President and CEO at CareSource. "Their focus will support our business operations, coordinated care efforts and improved clinical outcomes."
Copley received his Bachelor of Science degree from Campbellsville University and his Juris Doctor degree from the University of Kentucky College of Law. He is a member of the Kentucky Bar Association and sits on the Board of Directors for Prevent Child Abuse Kentucky.
Dr. Teichman earned a Bachelor of Arts from Adelphi University and a Master of Science and Doctor of Medicine from the University of Louisville. He served as Medical Staff President at Kosair Children's Hospital and has been involved with the Kentucky and Indiana American Academy of Pediatrics, Humana Health Plans Quality Improvement Committee and MDWise Hoosier Alliance.
About CareSource
CareSource is a non-profit health plan headquartered in Dayton, Ohio. As the 2nd largest Medicaid managed care plan in the country, CareSource understands the challenges consumers face navigating the health system. We are committed to putting health care within reach for approximately 900,000 members we serve in Ohio and Kentucky.
In March 2012, CareSource formed an alliance with Humana to serve Medicaid members in Kentucky and the dual-eligible population in Ohio (people who qualify for both Medicaid and Medicare). Together, Humana and CareSource have more than 50 years of experience and expertise to provide the highest quality of care. For more information, visit caresource.com.