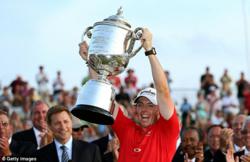 The mission of The Rory Foundation is to support children's charities across the globe, and its first program is titled "The 6 Bags Project."
Jupiter, Fla. (PRWEB) January 22, 2013
Rory McIlroy has a soft spot for children, and the top-ranked golfer will show it when he plays The Honda Classic at PGA National next month.
The young golfer from Hollywood, Northern Ireland, now an owner of South Florida real estate, created The Rory Foundation at the beginning of the European Tour season. The mission of The Rory Foundation is to support children's charities across the globe, and its first program is titled "The 6 Bags Project."
Waterfront Properties and Club Communities is proud of McIlroy and the good will he brings not only to the game of golf, but also to Palm Beach County, where dozens of Tour professionals live, work and play.
"The 6 Bags Project" kicked off at the recent Abu Dhabi HSBC Golf Championship, when McIlroy sported a new golf bag embossed with the name of a charity: the Northern Ireland Cancer Fund for Children. The goal is to raise awareness of the organization, encourage donations and create a buzz when the bag is auctioned off at the end of the tournament, with all proceeds going directly to the cause.
McIlroy will repeat the program for his next five events and has identified four of the five charities. They are: the Boys & Girls Club of Tucson (Match Play Championship in Arizona); Child Protection Team of Palm Beach (The Honda Classic); First Tee Miami-Dade Amateur Golf Association (Cadillac Championship); and Chinquapin School (Houston Open). The Honda Classic takes place Feb. 25 through March 3 in Palm Beach Gardens.
McIlroy is working on selecting a nonprofit in the Augusta, Ga., area for the Masters, set for April 11 through 14.
In late 2012, McIlroy bought one of the beautiful Palm Beach Gardens homes for sale, and this one is on the Intracoastal Waterway.
Waterfront Properties and Club Communities, based in Jupiter, is fortunate to have McIlroy as a new neighbor, and Rob Thomson, the company's managing partner, congratulates McIlroy on the charitable endeavor.