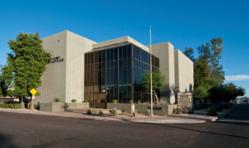 Phoenix, Arizona (PRWEB) January 23, 2013
This 16th Street office/medical class "B" office building located at the corner of 16th Street and E. Meadowbrook Ave. in the Camelback Corridor just 8 blocks west of the Biltmore Fashion Park Shopping Center sold above Seller's expectations and closed escrow within 75 days of its marketing launch. The Seller controlled Bank of Oklahoma, NA is extremely pleased with the outcome and the method of Accelerated Commercial Real Estate's (acceleratedcre.com) outreach which included online ads, regional eblasts to brokers and buyer prospects and full incorporation of area signage. This property had been listed on the market for sale previously for more than 500 days.
"We are continuing to seen a strong increase in demand for quality well located commercial buildings like this within the Phoenix, Scottsdale and established areas of Arizona. The marketing process was aggressive and comprehensive, generating 6 good offers leading to a successful sale of the property. We provide local sales agent representation as well as the most innovative marketing technology tools for real estate exposure", says Patrick Burke, President Accelerated Commercial Real Estate.
About Accelerated Commercial Real Estate
Accelerated Commercial Real Estate utilizes advanced marketing strategies that drive the sale of commercial property faster than anyone else with carefully developed and well-proven advanced marketing methods. Use of advanced technology through multiple marketing channels to identify those who seek property , offering those parties the opportunity to purchase at a price that reflects current market value. Engaging buyer prospects with market pricing and input creates a demand and the optimal outcome that clients have consistently experienced to date. Contact a commercial property expert at 602-466-2325 or toll free 888-938-8880.