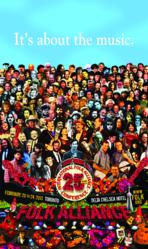 (PRWEB) January 21, 2013
The International Folk Alliance Conference has announced its over 200 invited artists for the conference, public show schedules are complete and early registration ends January 23rd. You can view the list of invited artists at http://www.folkalliance.org/conference/2013-official-showcase-artists, and a final schedule of showcase times will be posted soon. If you've yet to register for the conference, don't delay. Visit http://www.folk.org to get started.
WEDNESDAY NIGHT CANADIAN SPECTACULAR (Wednesday, February 20: 7:30-11:00pm)
Wednesday night features our only Delta Chelsea Hotel performances that are open to the general public and our registrants. Several special Feature Shows presented by Borealis Records, True North Records, Winterfolk, Toronto Blues Society, and others will highlight this year's program. There will be a total of seven stages on Wednesday night. The schedule for this event will be available in the February issue of Exclaim! Magazine, as well as on the Folk Alliance website.
FEATURING: Beyond The Pale (Toronto, ON), Brian Blain's Blues Campfire, Jon Brooks, Tim Chaisson, Annabelle Chvostek, Wendell Ferguson, Laura Fernandez & Noah Zacharin, Ariana & David Gillis, Brian Gladstone, Eve Goldberg, James Gordon, Grainne, HOTCHA!, Si Kahn, Connie Kaldor, James Keelaghan, treasa levasseur, Little Sun, Old Man Luedecke, Catherine MacLellan, Harry Manx, Madison Violet, Ruth Moody, Mr. Rick & The Biscuits, Pavlo, Karine Polwart, Tony Quarrington, The Strumbellas, Suzie Vinnick, Ken Whiteley, Wilderness of Manitoba and more to be announced soon
FOLK ALLIANCE AT HUGH'S ROOM
In addition to Wednesday night's public shows at the Delta Chelsea, this year Folk Alliance is bringing the music to the local community, with a series of shows at Hugh's Room throughout the conference week. The shows will feature several of our wonderful official FAI showcase artists. All Hugh's Room shows are fundraisers for Folk Alliance International, advance tickets are available by calling (416) 531-6604 or emailing info(at)hughsroom.com, individually ($25) or in packages (2 for $45, 3 for $65 & 4 for $80), or at the door for $27.50. The schedule for this event will be available in the February Exclaim! Magazine, as well as the Folk Alliance website. Schedule Subject to Change
Wed. February 20
Pear
Del Barber
Hot Club of Cowtown
Thurs. February 21
Brooke Palsson
Old Man Luedecke
The Stray Birds
Fri. February 22
ITR: Jimmy Lafave, Sam Baker, Matt the Electrician, Ellis Paul
Red Molly
Elephant Revival
Sat. February 23
Joe Pug
Milk Carton Kids
Rose Cousins
EXCLAIM! MAGAZINE CONTEST AND PULL OUT PAGE
Folk Alliance International and Exclaim! Magazine have teamed up to offer Exclaim! readers and Folk Alliance attendees a chance to win passes to the 2013* Conference. All you have to do is try your hand at naming folk music legends and contemporaries on the Michael Wrycraft designed 2013 Conference Poster for a chance to win! The first person to correctly identify all the faces will receive US$1000, a new guitar, and comp conference registration for two. If there is no grand prize winner, the entry with the most correct answers will win the guitar and conference registrations. Second prize will include conference registrations, and 10 runner-up prizes will include FAI gift packages and passes to our public shows at Hugh's Room during the week of the conference. Extended until January 26th, anyone may enter at Exclaim.ca/Contests/folk_alliance_international. Also, check out the February issue of Exclaim for a Folk Alliance public shows schedule inside. (*Winning registration may be used for 2013 or 2014 conferences)
COFFEE SHOP PROJECT: AUDIOBLOOD MEDIA AND FOLK ALLIANCE
Folk Alliance has teamed up with Audioblood Media to bring Torontonians a taste of whats happening at the conference. The February Pick of The Month for Audioblood's ongoing Coffee Shop Project will feature a selection of songs from Folk Alliance showcasers, including The Stray Birds, Fearing & White, 100 Mile House, Brother Sun, The Fretless and many more. Download cards are available at participating coffee shops across Toronto, a full list of participating shops is located at http://csp.audioblood.com/. Pick up your card at any location through the month of February and go to http://csp.audioblood.com/ to redeem, and get information on our public shows.
The International Folk Alliance Conference is the largest self contained music event in the world and annually brings together over 2000 artists and music industry professionals, featuring over 200 juried music showcases. The 2013 conference will host features on Canadian Folk Music, including a very special keynote from legendary Canadian manager and label founder Bernie Finkelstein. There will be musical celebrations on the rich history of Canadian Folk Music, exploration of the current Folk Music revival in popular music, a special preview of our 2014 conference and new music camp in Kansas City, and panels, clinics and workshops featuring some of the finest musicians and industry professionals in the business. This year's Lifetime Achievement Awards will include presentations for The Weavers, Mike Seeger, and the Augusta Heritage Center. This plus the music, and much more will make for an exciting week all under one roof.
For questions regarding the 2013 Folk Alliance conference, please contact Louis Meyers at 901-522-1170 or louis(at)folk.org. Media inquiries/accreditation please contact Joelle May at 403-618-2504 or joelle(at)folk.org.