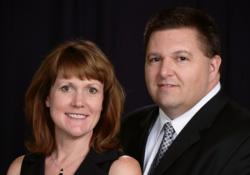 Gretchen and I expect 2013 to be our best year in Real Estate.
Nashville, TN (PRWEB) January 22, 2013
After spending their entire career at one firm, Steve and Gretchen Jolly, have changed firms to Benchmark Realty. Benchmark is known for their great work environment, flexibility and excellent commission structure. The firm was named one of the best places to work in Nashville in 2012.
"We chose Benchmark because they will best help us exceed the needs of our clients," Steve Jolly said, "Gretchen and I expect 2013 to be our best year in Real Estate."
Steve will continue to sell foreclosures for his bank clients and serve investor clients all over Metro Nashville. Steve is considered one of the top foreclosure experts in Nashville and sells over 40 bank owned properties every year. "My success in Nashville Real Estate is due to three simple rules: Treat every house like it was my home, Always go above and beyond for your clients, and Effectively use technology and traditional marketing strategies to quickly sell each home at top dollar," Jolly continued. Jolly is rated one of the highest volume agents in the Nashville and is has been a consistent top producer award winner.
Gretchen will continue to work in Metro Nashville serving clients purchasing residential and investment properties. She focuses on Area 2 in Nashville and Williamson County. For buyers relocating to Nashville or Brentwood, Gretchen is exceptional at helping others make an easy transition to their new life in Nashville. "My job is much more than a real estate agent," Gretchen stated, "My goal is to make you quickly feel at home in your new city." Gretchen's clients benefit from her vast knowledge of Nashville and her network in the business community.
Steve and Gretchen are thankful for their past opportunity in real estate, and are looking forward to greater success in 2013.