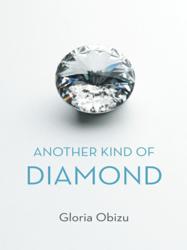 The idea for the book came from a story told to me by a girl at a bus stop in Nigeria
Los Angeles, Calif. (PRWEB) January 23, 2013
Poverty, violence, child neglect and sexual abuse continue to be prevalent human rights issues in Nigeria.
Nurse and published author Gloria Obizu, who was born and raised in Nigeria, witnessed firsthand the sexual, emotional and financial suffering that permeated the streets of her hometown. It was these experiences, Obizu said, that compelled her to flee the country.
Living in California since 2005, Obizu has a second chance at life—a characteristic that she shares with the protagonist of her new novel, Another Kind of Diamond. Based on true events from her life in Nigeria, the book boldly confronts issues of sexual abuse, neglect and violence.
"The idea for the book came from a story told to me by a girl at a bus stop in Nigeria," Obizu says. "While I lived in Nigeria, I was so bothered by the way poverty affects people, especially children."
Another Kind of Diamond tells the story of a victimized young girl who eventually flees her native country to escape persecution. With overarching themes of courage, determination and resilience, Obizu shares the story of a girl granted the chance for a fresh start, but stuck in self-destructive ways that have the potential to end her life in ruin.
"I'm very critical of poor government systems because it brings about hardship for so many people" Obizu says. "I believe everyone deserves a good life and happiness."
Another Kind of Diamond
By Gloria Obizu
ISBN: 978-1- 4772- 3765-6
Approx. pages
Paperback 6x9
Retail price: $23.95
E-book price: $3.99
Available at Amazon, Barnes & Noble
About the author
Born and raised in east Nigeria, Gloria Obizu has a bachelor's degree in education and a master's degree in international relations and political science. Obizu was the principal of St. John's primary school and worked with the Lagos State Teaching Service Commission for many years while living in Nigeria. Her first book, Our Contemporary Time, is highly critical of the Nigerian political institution and the persecution that followed its release was cause for Obizu to immigrate to the United States in 2005. Obizu now works as a registered nurse in Los Angeles.
# # #