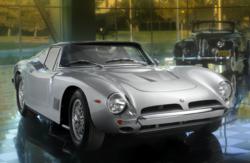 One of the best and most original Bizzarrini GT 5300s in the world.
Monte Sereno, CA (PRWEB) January 22, 2013
With the collector car market heating up and classic cars now thought of as investments it is notable that a very high quality Bizzarrini GT 5300 Strada is now for sale for the first time in many years.
This 1966 Bizzarrini GT 5300 has won numerous awards: it was the Bizzarrini Class Winner at The Quail, A Motor Sport Gathering in August 2012 and it won the Owner's Choice Award at The Hillsborough Concours d'Elegance in August 2011. This Bizzarrini GT 5300 has also received many other awards over the years.
This classic car is one of the finest and most authentic Bizzarrini GT 5300 Stradas in existence. Bizzarrinis of this character rarely come up for public sale.
The Bizzarrini GT 5300 provides a ticket to an exclusive club – with approximately 115 of all types produced and an estimate of less than 100 still in existence, a Bizzarrini GT 5300 is always a rare car at any classic car event.
Giotto Bizzarrini and Bizzarrini GT 5300 Background
Bizzarrini S.p.A. was an automotive manufacturer in the 1960s, founded by former Alfa Romeo, Ferrari and Iso engineer, Giotto Bizzarrini. The company produced a small number of high performance GT sports cars and racing cars before going out of business in 1969. Giotto Bizzarrini is well known for his engineering work on some of Ferrari's most successful cars in the late 1950s and early 1960s most notably the Ferrari 250 GTO.
When he left Ferrari in the "palace revolt" he did some work for Iso, which eventually led to the Iso Grifo A3/C, which later became the Bizzarrini GT 5300 when Giotto Bizzarrini split with Renzo Rivolta.
The Iso Grifo A3/C (C for Corsa) is a race car. It has a different body design than the Iso Grifo A3/L (L for Lusso) and Giorgetto Giugiaro, of Bertone, was responsible for the styling of both versions. The Iso Grifo A3/C has an aluminum alloy body and everything about it was designed to win the 24 Hours of Le Mans.
It is low to the ground, lightweight, uses under the car aerodynamics and the engine sits very far back in the chassis resulting in a front-mid-engine placement. The engine is placed so far back that the distributor is under the dashboard and a panel on the dashboard is removed to access the distributor.
The result is almost a 50/50 weight distribution front to back. The door sills are also gas tanks for improved weight distribution, this increased the gas capacity to thirty-five gallons. The Iso Grifo A3/C and Bizzarrini GT 5300 race cars have a top speed of 170 MPH and are competitive in historic racing today.
A Bizzarrini GT 5300 won it's class and was ninth overall at the 24 Hours of Le Mans in 1965.
About My Car Quest
Mike Gulett is the publisher and writer of the popular classic car blog, My Car Quest, where he writes about classic cars, race cars, other cars that interest him and the people who made or drove those cars.
He has published a few books about classic cars, the latest being "Twenty-Five Affordable Classic Cars". He is also a car collector and writes from the perspective of a collector and an enthusiast.
Contact: Mike Gulett
Email: mike(at)mycarquest(dot)com
Mobile phone: 408-406-5439
Monte Sereno, California 95030 USA