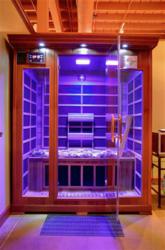 Las Vegas, NV (PRWEB) January 22, 2013
Evolutionhealth.com is proud to introduce low EMF infrared saunas. Low EMF heaters are available as an upgrade option to their Luxury Infrared Sauna series.
Evolution Health's Infrared Saunas do not emit a high amount of EMF's; the average is about 13 mG. An average person is exposed to far higher levels of EMFs in their home alone. A microwave oven emits up to 400 mG. A typical fluorescent lamp of a office ceiling have readings of 160 to 200 mg 1 at just an inch away. Although the average person can use Evolution Health's Infrared Sauna without having to worry about high levels of EMF's, the low EMF heaters are a great option for those with MCS (Multiple Chemical Sensitivity). People with MCS are easily affected by most environmental pollutants that are barely noticed by the average person. Evolution Health Low EMF Infrared Sauna will benefit customers with MCS.
EvolutionHealth.com offers Infrared Saunas that promote detoxification and overall health. Some possible uses for Infrared Sauna therapy are:
1) Infrared sauna for weight loss
2) Infrared sauna heavy metal detox
3) Infrared sauna and arthritis pain
4) Infrared sauna passive cardiovascular workout for the disabled.
5) Infrared sauna improves skin conditions
Far Infrared Saunas are a healthy weight loss solution without exercising. Infrared saunas can burn 400-600 calories in just one 30 minute session. In the chart below is a summary of how many calories a 150 pound person normally burns in 30 minutes of exercise:
In a far infrared sauna, a moderately fit person can sweat one pound of sweat in 30 minute session, which is the equivalent of running 2-3 miles.
Infrared saunas are a great solution for heavy metal detoxification. Heavy metal detox is important for overall health on a regular basis. Heavy metals can destroy proteins and other important substances the human body needs for best function. Many of these substances are cell receptors, hormones, or enzymes.
Sauna Therapy can be very effective in detoxing from heavy metals. Use Sauna detoxification along with certain supplements to help bind the metals out of the body.
Infrared Sauna therapy decreases joint stiffness directly. There was a 20% decrease in stiffness at 45°C as compared with 33°C in rheumatoid finger joints, which correlated perfectly to both subjective and objective observation of stiffness. Any stiffened joint and thickened connective tissues should respond in a similar fashion.
The deep heat of the far infrared sauna helps peripheral blood vessels dilate, bringing relief and healing to muscle and soft tissue injuries. Increased blood circulation carries off metabolic waste products and delivers oxygen-rich blood to oxygen-depleted muscle, so they recover faster. Muscles relax most readily when tissues are warm, for greater flexibility and range of motion.
Infrared saunas have a Passive Cardiovascular Conditioning Effect and make it possible for people in wheelchairs, or those who have a disability that affect their ability to exercise to achieve a cardiovascular training effect. Regular use of a sauna may impact a similar stress on the cardiovascular system, and its regular use may be as effective, as a means of cardiovascular conditioning and burning of calories, as regular exercise." - Journal of the American Medical Association 8/7/81.
Due to the deep penetration of the infrared rays generated by the Far Infrared Sauna, there is a heating effect deep in the muscular tissues and the internal organs. The body responds to this deep-heating effect via a hypothalamic-induced increase in both heart volume and rate. This beneficial heart stress leads to a sought-after cardiovascular training and conditioning effect. Medical researches confirm the use of a sauna provides cardiovascular conditioning as the body works to cool itself and involves substantial increases in heart rate, cardiac output and metabolic rate.
Infrared Sauna use Improves Skin Conditions. The profuse sweating achieved after just a few minutes in far infrared sauna carries off deeply imbedded impurities and dead skin cells, leaving the skin glowing and immaculately clean, Increased circulation draws the skin's own natural nutrients to the surface. It improves tone, elasticity, texture and fresh color of the skin. Increased blood circulation has also been shown to relieve acne, eczema, psoriasis, burns, lesions and cuts. In addition, open wounds may heal more quickly, reducing scarring.
An Infrared sauna heats its occupants with heaters that emit far infrared radiant heat. Unlike traditional Finnish Saunas, infrared saunas do not use steam, (which heats the air, and thereby the user) but instead use infrared energy to directly heat the user. In an infrared sauna, the infrared heater produces radiant energy, which is the same as the heat from the sun, only without the harmful ultraviolet rays.
Evolution Health's luxury sauna, deluxe sauna, and basic sauna series feature fiber carbon
heaters which are far superior to the ceramic heaters that are often used in infrared saunas. Fiber Carbon heaters offer a larger and more even heat distribution than ceramic heaters, as well as a faster warm up time. Also, the infrared heat penetrates deeper into the skin tissue than with ceramic heaters.
Evolution Health saunas are available in the following sizes:
1 person sauna
2 person sauna
3 person sauna
Corner sauna
4 person sauna
Evolution Health offers 4 series of saunas to fit almost any budget or need.
The Evolution Health Luxury sauna series come hemlock wood or red cedar wood and feature larger cabin sizes and deep benches of 24 inches. The luxury heaters have the largest surface area of heat of any sauna on the market and feature floor heaters. The wood panels are thicker than most other infrared saunas on the market, with 8mm tongue and groove thickness and double walled for better insulation.
The EvolutionHealth Deluxe infrared saunas have larger infrared heating panels than the typical infrared sauna on the market and come with floor heaters. These saunas come in 100% hemlock or red cedar wood and some feature oxygen ionizers with aromatherapy. Also included is an AM/FM cd player with MP3 plugin.
The EvolutionHealth affordable infrared saunas are an economical alternative and come with an oxygen ionizer and AM/FM CD player with MP3 plugin. These saunas come in hemlock wood with fiber carbon heaters.
Also available are Evolution Health outdoor infrared sauna models. Most outdoor infrared saunas are only available in ceramic heaters, but Evolution Health's outdoor saunas feature fiber carbon heaters with a large surface are of heat equivalent to the large surface area of heat of Evolution Health's luxury series.
All of Evolutionhealth's infrared saunas feature fiber carbon heaters which offer better distribution of heat and faster warm up time. Carbon Heaters have a low surface temperature of heat making them safer and providing more of the infrared waves. Evolution Health infrared saunas use a coated flexible metallic conduit for all the interior wiring. The metallic conduit helps in the following:

Protect the wires from external damage.
Reduce electrical fire hazard.
PVC coating on the outside provides water and moisture protection.
Provides Electro-magnetic Field (EMF) shielding.
EvolutionHealth.com was founded by Blue Dunn the creator of Flextasy Functional Flexibility System®; EvolutionHealth®, a Life Reorientation Total Fitness Program; and HydroYoga, his water-based passive Yoga Release Modality. The products Blue has made available to the public are ones he regularly uses and based on 30+years of search, research, and experiment. Blue Dunn considers these products to be the crème de la crème and his collection of favorites, which have changed his life, and the lives of his clients for the positive.
EvolutionHealth.com offers an extensive line of health products, including infrared saunas, Inversion table equipment, Rebounder equipment, air purifiers, and nutritional supplements.