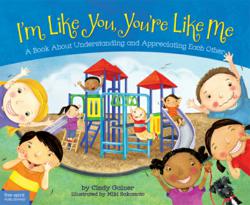 "Bright, cheerful . . . With the focus on kindness, respect, and tolerance, this title is an appropriate teaching tool for an early childhood environment."
—School Library Journal
Minneapolis, MN (PRWEB) January 22, 2013
Now available in paperback! Free Spirit Publishing brings fresh life to its classic early childhood book on diversity with new illustrations by Miki Sakamoto. I'm Like You, You're Like Me: A Book About Understanding and Appreciating Each Other (Free Spirit Publishing, $9.99), written by Cindy Gainer, addresses the subject of diversity through six concepts: comparing, acceptance, listening, understanding of self and others, kindness, and cooperation. This Nautilus Silver Award-winning book teaches kids to appreciate the ways they are alike and affirm their individual differences.
I'm Like You, You're Like Me describes diversity in terms kids can understand: hair that's straight or curly, families with many people or few, and skin that's dark, light, and in between. Sakamoto's whimsical illustrations depict kids from various cultures and ethnic backgrounds, by showing kids with hair from bright red to dark and curly or covered by a headscarf. Detailed border illustrations will captivate young readers.
I'm Like You, You're Like Me meets a need for multicultural picture books for children. Nearly eight in ten U.S. adults believe that it is important for children to be exposed to picture books that feature main characters of various ethnicities or races—but one-third report that it is difficult to find such books, according to a recent survey commissioned by The Ezra Jack Keats Foundation, a nonprofit organization dedicated to enhancing the love of reading and learning in all children.
The original edition of I'm Like You, You're Like Me was released in 1998 and has sold more than 46,000 copies. Written for kids from preschool to lower elementary, the new edition contains a two-page section for parents and caregivers that provides tips and discussion points for talking with children about tolerance and respect for others. The book ends with a reaffirmation that though people are alike in many ways, it's our differences that make each of us unique and interesting. Kids learn that being "not exactly the same" is a great reason to like each other.
(Note: There's a fun "Where's Waldo?" touch in the book. Look for cameos of a black terrier pup—that's Twiggy, one of Free Spirit founder Judy Galbraith's rescue dogs. Twiggy can usually be found at the Free Spirit office getting belly rubs from 9 to 5.)
About the author
Over her 28-year career, Cindy Gainer has worked with and for children in many capacities, including as an educator, proprietor of a preschool, athletic mentor, award-winning author, illustrator, musician, workshop presenter, and support professional for children with special needs. I'm Like You, You're Like Me embodies her sensitive and encouraging manner. Cindy resides near Pittsburgh, Pennsylvania, with her husband, Bill, and son, August.
About the illustrator
Miki Sakamoto's interest in illustration began during her childhood as she sketched, colored, and painted away for hours in her room. Her artwork is inspired by all her nieces and nephews. Miki resides in Orange County, California, with her husband, Kevin, her cat, Jake, and her mouse, Millie. She has illustrated several picture books, including What I Like About Me by Allia Zobel Nolan and My First Garden by Wendy Lewison.
About Free Spirit
Headquartered in Minneapolis, Minnesota, Free Spirit is the leading publisher of learning tools that support young people's social-emotional health and their educational needs. Free Spirit's mission is to help children and teens think for themselves, succeed in life, and make a difference in the world. For more information, visit http://www.freespirit.com.
$9.99 / Softcover / 48 pp. / ISBN 978-1-57542-436-1 / color illust. / 11¼" x 9¼" / for ages 3–8
$14.99 / Hardcover / 48 pp. / ISBN 978-1-57542-383-8 / color illust. / 11¼" x 9¼" / for ages 3–8
###
Praise and accolades for I'm Like You, You're Like Me:
-Nautilus Silver Award winner
"Colorfully illustrated and beautifully written . . . Children of all ethnicities, family situations, shapes and sizes and abilities, including those who are physically challenged, are shown and celebrated for both their likenesses and their differences. This is an excellent book for use in the home, classroom, or church library."
—Libraries Alive, a publication of the National Church Library Association
"A perfect book to use in a classroom, nursery school, home—or anywhere there is diversity or where diversity is appreciated."
—Pamela Kramer, Book Examiner, Examiner.com
"Young readers will have a great time learning how they're alike and different, from their hair to their families to where they live and more."
—Lori Calabrese, National Children's Book Examiner, examiner.com
"Simple words and detailed illustrations invite kids to notice, accept, and affirm diversity."
—Skipping Stones
"The message of this purpose-driven text is loud and clear: Recognize similarities, accept differences and appreciate both . . . A starting point for diversity discussions."
—Kirkus Reviews
"Bright, cheerful . . . With the focus on kindness, respect, and tolerance, this title is an appropriate teaching tool for an early childhood environment."
—School Library Journal