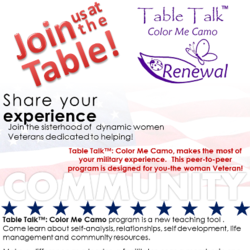 Fort Worth, Texas (PRWEB) January 21, 2013
Grace After Fire announced today that they will receive a grant in the amount of $10,000.00 from Wounded Warrior Project (WWP), a non-profit organization whose mission is to honor and empower Wounded Warriors.
Grace After Fire's Table Talk: Color Me Camo
Grace's outreach program currently puts "boots (heels) on the ground" through the work of women Veterans in north, central, and south Texas. Grace After Fire's program, Table Talk: Color Me Camo, serves as a peer support system designed specifically for women Veterans. Table Talk focuses on gender specific aspects through structured positive interaction with trained facilitators and fellow peers while identifying and addressing any barriers to attending group meetings.
"Wounded Warriors and Grace After Fire are both committed to helping women Veterans help themselves! It is an honor to partner and work to better the lives of those dedicated Veterans," says Kimberly Olson, Colonel, USAF (retired), the CEO/President of Grace After Fire.
About Grace After Fire
Since 2008, Grace After Fire has been dedicated to helping women Veterans help themselves by providing the means for women Veterans to gain knowledge, insight and self-renewal. The team at Grace guides women Veterans through peer to peer outreach as they re-enter their communities, the workforce, and as they redefine their roles for a successful future.
At Grace we believe women Veterans are the core of the family unit and is a powerful force multiplier for the wellness of the spouse, children and extended family. We accomplish this goal through the work of eight full time comprised of women Veterans, a family member and supporter.
Grace's dedicated staff coordinates services, provides peer-to-peer support to individual Veterans in the community and raises awareness, and training within the Veteran community.
"WWP is very proud to be collaborating with so many diverse organizations through our grant program as we understand that only by working together with additional organizations will we be able to meet all of the needs of our Wounded Warriors," said Steven Nardizzi, executive director, WWP. "We believe in order to ensure this generation of injured veterans is the most successful and well-adjusted in our nation's history we must create a strong network of community resources united in support of them."
It is estimated over 48,000 servicemen and women have been physically injured in recent military conflicts, another 320,000 have experienced a traumatic brain injury while on deployment, and as many as 400,000 additional service members live with the invisible wounds of war including combat-related stress, major depression, and post-traumatic stress disorder.
The mission of Grace After Fire is to provide the means for women Veterans to gain knowledge, insight and self-renewal. We serve to protect the Veteran, connect the resources and renew the woman.
About Wounded Warrior Project®
The mission of Wounded Warrior Project (WWP) is to honor and empower wounded warriors. WWP's purpose is to raise awareness and to enlist the public's aid for the needs of injured service members, to help injured servicemen and women aid and assist each other, and to provide unique, direct programs and services to meet their needs. WWP is a national, nonpartisan organization headquartered in Jacksonville, Florida. To get involved and learn more, visit http://www.woundedwarriorproject.org.