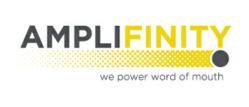 Amplifinity is an example of what Michigan sees as a true opportunity to leverage private businesses and keep this state thriving.
-Antonio Lück, Pure Michigan Venture Match Fund-
Ann Arbor, MI (PRWEB) January 22, 2013
Amplifinity, creator of the Advocacy Management Platform (AMP), which generates and measures social behaviors for enterprise-class companies, today announces that they are the recipients of an investment from the Pure Michigan Venture Match Fund (PMVMF). Amplifinity was the first company to receive an investment from PMVMF, and is now among six other Michigan companies to receive the funds. Amplifinity's funding matched a $1.1M investment from Early Stage Partners and RSVP Ventures. PMVMF is playing a vital role in growing the state's economy by supporting high-growth technology companies whose applied research and development brings forth innovation that contributes to a strong competitive advantage in the marketplace. "This is not just a story of success for us," said CEO of Amplifinity, Dick Beedon. "This is a story about continuing to help Michigan become a beacon of progress and technological innovation. There is a lot happening at Amplifinity on many levels right now, and we are excited to contribute to this progress."
"We are very pleased that the MEDC has selected Amplifinity to receive these matching funds. Early stage capital is scarce and this program, which provides companies with longer runways to execute their business plans, signals Michigan's commitment to nurturing VC-backed technology companies," said Jonathan Murray, who leads the Information Technology Investment Practice at Early Stage Partners, and sits on the Amplifinity Board of Directors. "This paves the way for Amplifinity and Michigan."
Antonio Lück, who manages the PMVMF said, "Amplifinity is an example of what Michigan sees as a true opportunity to leverage private businesses and keep this state thriving. PMVMF strives to provide funding to early-stage companies that show great potential. No other state in the nation provides the depth of entrepreneurial support to budding high growth companies like Michigan."
Crains Detroit reported that the Michigan Economic Activity Index climbed two points in June to the highest level for the index since December 2002. Amplifinity is confident that their platform, quickly growing client roster, strategic 2012/13 executive hires, and expanding technical capabilities will have a major impact on the state, as well as the industry as a whole. Paul Vlasic, Founder and Chairman of RSVP Ventures said, "The Pure Michigan funds are a key component in promoting institutional funding of our start-up community. It is good news that the state is committed to sparking all stages of funding starting with ideation. This means more than providing just dollars; there are many ways the State supports successful start-ups so as to create a thriving Michigan economy. Amplifinity is excited to be the first company to be part of the Pure Michigan story."
About Amplifinity
Amplifinity is one of the pioneers in the development of social marketing platforms. Amplifinity's Advocacy Management Platform (AMP) is being used by leading companies to generate social behavior by mobilizing customers, employees and third parties to refer new prospects, endorse products, and amplify marketing messages. With AMP, brands are able to acquire customers at a fraction of the cost of traditional channels, thereby increasing revenue, retention, and profitability. Amplifinity is a proud member of the Word of Mouth Marketing Association (WOMMA). Amplifinity.com
About MEDC
The Michigan Economic Development Corporation markets the state with a focus on business, talent and jobs, tourism, film and digital incentives, arts and cultural grants, and overall economic growth. MEDC offers a number of business assistance services and capital programs for business attraction and acceleration, economic gardening, entrepreneurship, strategic partnerships, talent enhancement and urban and community development. MEDC, founded in 1999, also developed and manages the state's popular Pure Michigan brand.
About PMVMF
Early stage, innovative companies often require venture capital to help bridge critical stages of development and commercialization. Through the Pure Michigan Venture Match Fund, the MSF Board seeks to bridge this capital gap and help early stage companies develop technologies, grow innovative companies, diversify Michigan's economy and create economic wealth in the state.
http://www.michiganadvantage.org/Pure-Michigan-Venture-Match-Fund
About RSVP Ventures
RSVP invests financial and intellectual capital into high potential entrepreneurial opportunities, and makes flexible and seasoned business strategists available to growing companies where full-time, dedicated resources are not available. Based in Ann Arbor, Michigan, RSVP funds sound and innovative ideas wherever they are born. Collectively, RSVP has three decades of experience in entrepreneurial management and ten years of dedicated venture capital investing experience. rsvpcapital.com
About Early Stage Partners
Early Stage Partners is an early stage venture capital fund based in Cleveland, Ohio, with an office in Ann Arbor, Michigan. It is the largest and most active early stage venture firm in Ohio, with $100 million under management in two funds. Early Stage Partners invests primarily in promising opportunities in the life sciences, cleantech, and information technology. Since inception, Early Stage Partners has invested in over 30 high-potential companies in Ohio, Michigan, and elsewhere. The company's principals have over 90 years combined experience in early stage company formation and development and significant operating experience. http://www.esplp.com.