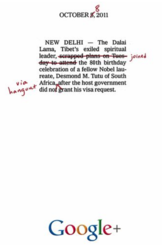 So why doesn't Google eat their own pudding when it comes their print ads?
(PRWEB) January 22, 2013
On January 16, 2013, Google Creative Labs began celebrating their $1 million worth of free full-page print advertising in the USA Today, but Predictable Profits founder Charles Gaudet argues creativity should not be confused with results, and he's willing go to bat to prove it.
"Google gets an 'A' for creativity and I really hand it to Google Labs for thinking outside of the box with the advertisement. However, there is a core difference between creativity and results," says Gaudet. "And while this is being publicized as 'genius,' small business owners need to know the inherent issues within this advertisement - and how advertising like this will hurt their profitability in the long run."
Gaudet says that the print advertisement does capture readers' attention and compels them to read the text, but it stops short with no call to action, no compelling reason for the reader to act now, and the advertisement does not target a particular user by enticing them with how/why it benefits them.
But Gaudet says Google should know better.
"When you advertise online using Google Adwords, Google built the platform so you could know how your ads are doing with detailed reporting and analytics to split test headlines, keywords, calls to action, etc. You keep the ones that are working and delete the ones that fail. Smart advice. So why doesn't Google eat their own pudding when it comes their print ads?"
So does this type of advertising work? Gaudet is asking Google for the chance to prove it with a gentlemen's bet to benefit the entrepreneur and small business owner. Gaudet says he will write and design a new full-page advertisement for Google and when Gaudet's advertisement out-performs Google's, they must be willing to share the results and lessons from the print advertising competition with the small business community.
Will Google take Gaudet up on the challenge? Follow Charles Gaudet on twitter at http://www.Twitter.com/CharlesGaudet to find out.
ABOUT CHARLES GAUDET:
Gaudet has been called "The Entrepreneur's Marketing Champion" for consistently delivering windfalls of profits to his clients by unveiling hidden assets and opportunities that have been previously under-utilized, or have gone unnoticed. Gaudet started his first business at the age of 4 when he set up a tollbooth in the hallway leading to his parent's bathroom, and has been ferociously committed to the study of successful business practice ever since. At age 24, after abruptly finding himself in millions of dollars in debt, he systematically grew his first multi-million dollar business. He is the founder of Predictable Profits. Follow Gaudet on Twitter at http://www.Twitter.com/CharlesGaudet.
ABOUT PREDICTABLE PROFITS:
Predictable Profits is a leading small business marketing company, specializing in finding overlooked marketing opportunities commonly found in most small-to-medium sized businesses for generating quick, dependable, and predictable profits without having to spend any more money in advertising. The company shares their marketing strategies with its Insiders' Club Members, private clients, and on their blog.
For more information on how entrepreneurs can benefit from the marketing strategies shared by Charles Gaudet, please visit http://www.PredictableProfits.com/FreeCD to enter your name and email address for a free CD.