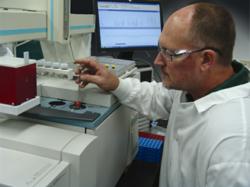 Without this type of testing, how can we know with certainty that a product is made of materials and chemicals that are recognized as safe?
Appleton, WI (PRWEB) January 22, 2013
As food safety concerns have intensified worldwide, a number of new regulations have been introduced to zero in on packaging. IPS Testing, an independent testing lab headquartered in Wisconsin, has developed a variety of screening methods that address standards and allow companies to monitor their own food packaging production and their vendors.
Regulatory changes include the U.S. Food and Drug Administration (FDA), European Union (EU) and many other international agencies tightening guidelines with new policies on the horizon. While each requirement is unique, many common safety themes have emerged:
1. Materials that have been Generally Recognized as Safe (GRAS) and materials once grandfathered into regulation may come under renewed scrutiny.
2. Evidence that the uses of various barriers previously assumed to be adequate in preventing the migration of inks and other substances will have to be proven.
3. The use of recycled fiber may become more difficult due to concerns over the transfer of mineral oil and other contaminants to food products.
4. Migration testing will likely play a larger role in the future.
5. Additional testing will be required to meet elevated enforcement standards.
Bruce Shafer, president of IPS Testing, explained, "Food packaging continues to be a very strong sector within the paper industry. Regulations worldwide are now scrutinizing the safety of the inks, adhesives, and other chemicals used in manufacturing food packaging." He said that total extractives and migration testing currently represent the majority of food packaging examination and noted, "These standardized procedures rely on the use of food simulants to assess the movement of contaminants from the packaging into the food."
While this type of testing is often required by a client or regulator, the approach itself can be meticulous and time-consuming. That's why IPS Testing has introduced a series of new testing methods that will deliver faster results at a lower cost. These screenings are designed to evaluate new suppliers and the development of new packaging products and processes. They utilize gas chromatography mass spectrometry (GCMS) methods to ensure that the products and raw materials used in packaging are safe for direct food contact.
Shafer said, "Many of the products we have tested so far are remarkably clean and meet all standards, but others have contained significant levels of known carcinogens." He added, "Without this type of testing, how can we know with certainty that a product is made of materials and chemicals that are recognized as safe?"
To further ensure food packaging safety, IPS Testing will also perform heavy metal analysis for compliance with programs like CONEG (Coalition of Northeastern Governors). The Toxics in Packaging Legislation prohibits manufacturers and suppliers of packaging and packaging materials from introducing heavy metals – lead, mercury, cadmium and hexavalent chromium – into any component of packaging.
The rule itself expressly prohibits packaging to contain the combined weight of all regulated metals in concentration exceeding 100 parts per million by weight. Violations have commonly been found in products at U.S. discount stores which feature packaging with lead and cadmium added to PVC.
Global sourcing is another factor in the equation of food packaging safety. The practice has long delivered manufacturers lower costs, but it has also made supply chain management more difficult. Shafer explained, "We often have clients who have worked in good faith to use materials that are safe for food contact, but through testing, contaminants are sometimes exposed." In the age of global sourcing, it is imperative that companies perform due diligence and monitor their vendors.
IPS Testing serves as an independent testing laboratory for many industries including, paper, pulp and print materials; nonwovens; medical supplies; personal care and absorbent products; food packaging; and allied industries. IPS Testing combines physical and analytical testing along with interpretive data analysis to offer clients testing services that help improve and ensure the quality of their products. For more information, contact Chris Reitmeyer at 920-609-1024, or visit http://www.ipstesting.com.