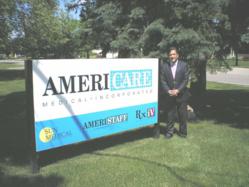 "Our company prides itself on being patient-centered and outcome driven,"
Troy, MI (PRWEB) January 22, 2013
The award recognizes AmeriCare Medical, Inc. for the company's outstanding contribution and dedication to improving community health of the citizens of the State of Michigan. AmeriCare is continually raising the bar in the health care industry both through quality outcomes and advocacy initiatives.
"Our company prides itself on being patient-centered and outcome driven," said Greg Jamian, President of AmeriCare Medical, Inc. "We are continually striving to improve community health, as well as, be a proud advocator for a multitude of health issues." Jamian is also on the Board of Directors for Oakland University's School of Nursing and is a former member of the Area Agency on Aging 1B.
AmeriCare Medical has been involved in countless good deeds in its corporate home of Troy, Michigan as well as surrounding communities. They were proud corporate sponsors for Relay for Life, supporters of Making Strides, and are members of both the Troy Chamber and the Detroit Regional Chamber of Commerce. AmeriCare Medical is also proud to stand behind a 501 (c) 3 that they helped develop, The Michigan Spinal Cord Injury Association (MSCIA). The MSCIA helps to advocate for individuals with spinal cord injury and disease throughout the state of Michigan. AmeriCare Medical continually strives to raise the bar in patient care, as well as in advocacy and community involvement. Further validating the company's outstanding performance in health care Governor Snyder along with the Michigan State Senate, have recently signed a tribute recognizing AmeriCare as a leader in the industry.
The company prides itself in being recognized as the industry leader in its contributions to community health while pursuing a mission of improving the lives of thousands of Michigan residents. They practice cutting edge and innovative patient care treatment and techniques, while subscribing to Best Practice Principles in everything they do. The company aims for excellence in all areas of health care, acting as the catalyst for new and improved health care procedures and standards where previously none have existed.
AmeriCare continues to be a member of good standing with MHHA, which is the state trade association for providers of home health care. The Association promotes the highest standards of excellence of patient care and the delivery of home health services.
-----
AmeriCare Medical Inc. is a health care company based out of Troy, Michigan that aims to provide patients with a "one stop shop" option in health care. AmeriCare Medical is the parent company to AmeriStaff Nursing Services, Sun Medical Equipment and RxiV Specialty Pharmacy. AmeriCare Medical, Inc., as well as each individual subsidiary company, is certified by the Community Health Accreditation Program (CHAP). This means each company maintains high standards of care, receiving a renewal in this accreditation each year.