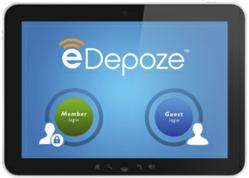 I was frustrated by the inefficiencies of having to print, copy, and carry or ship heavy boxes of paper.
Irvine, CA (PRWEB) January 22, 2013
eDepoze, LLC, a partnership between litigator Shawn Kennedy and leading litigation technology provider Advanced Discovery, has released the eDepoze deposition software system to improve the tried-and-true paper deposition process by combining a cloud-based repository with an iPad interface. By securely uploading exhibits electronically in advance, but only sharing them as they are introduced, eDepoze eliminates the cost and hassle associated with printing and transporting paper, supports remote depositions, keeps exhibits organized, and allows all parties to annotate and retain personal copies of all exhibits.
eDepoze was designed specifically to mirror the paper deposition process. "As a practicing litigator who frequently handled depositions, I was frustrated by the inefficiencies of having to print, copy, and carry or ship heavy boxes of paper," said Shawn Kennedy, CEO of eDepoze, LLC. "The challenge was to create a solution that eliminated paper without also eliminating the specific advantages of the paper process." As with the paper deposition process, documents remain confidential until they are introduced as an exhibit: they are shared one-by-one in real time. All parties can make notes on their own personal copies of the exhibits, and all parties leave the deposition with immediate access to the official exhibits.
Because eDepoze allows exhibits to be introduced and shared either locally or remotely, it also enables attorneys or their clients to participate in a deposition from a remote location.
eDepoze was designed by attorneys for attorneys. Key features of eDepoze include:

Remote depositions
Instant access to official exhibits at no additional cost
Ability to use existing electronic documents without printing, copying, or scanning
Access to documents anytime and anywhere
Secure, cloud-based environment
Simple to use, intuitive iPad interface
eDepoze leveraged Advanced Discovery's experience with litigation tools and expertise in the secure hosting of electronic documents to build an intuitive, scalable, secure solution. All data is managed, maintained, and backed up at a PCI- and HIPAA- compliant hosting facility featuring redundant power and bandwidth, 24/7/365 support, and state-of-the-art disaster recovery protocols. "We've worked with enough technology to understand that attorneys will only use applications that are easy to learn and use," said Thadd Hale, COO. "We made sure that eDepoze was built with an intuitive interface that anyone who has used an iPad can understand."
To learn more about eDepoze, or to see a demonstration, please visit the company at LegalTech booth 2517, January 29-31 at the Hilton New York, or visit eDepoze.com.
####
About eDepoze, LLC
eDepoze, LLC is a partnership between founder Shawn Kennedy, an attorney who spent the past twelve years litigating complex cases at two Am Law 100 firms, most recently with Morgan, Lewis & Bockius LLP, and Advanced Discovery, a company with deep experience delivering technology solutions to attorneys. Its flagship product, eDepoze, is a powerful yet easy-to-use cloud-based software system—with an iPad interface—that that delivers convenience, efficiency and cost-effectiveness while mirroring the tried-and-true deposition process that litigators have used for decades. eDepoze, LLC is headquartered in Irvine, CA. For more information, please visit eDepoze.com.