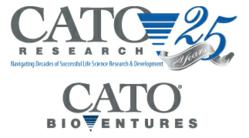 We see a major need and advantage for CATO to offer its regulatory and clinical services to local organizations through the support of a specialized, local team. Cato Research is committed to growing a significant presence for this purpose.
Durham, NC (PRWEB) January 22, 2013
Cato Research (CATO), a full-service contract research organization (CRO) in its 25th year of global drug development success, and Cato BioVentures, CATO's venture arm, proudly announce the opening of a new office in Houston, Texas.
CATO has managed many clinical trials at various research centers in Texas, in addition to supporting Texas-based companies and organizations. CATO has employed field-based clinical research personnel to manage trials both inside and outside the state. Recently, due in part to the CPRIT initiative, CATO has observed an upsurge of activity and need for life science industry services and expertise that CATO offers within the state of Texas. This initiative led to the establishment in 2012 of CATO's first Texas office, located in Houston at the Greenway Building, 3200 S. W. Freeway, Suite 3300.
CATO has dedicated teams of specialists with many years of experience, one team of which is solely focused on oncology. These specialists work on many aspects of oncology product development, including preclinical, clinical trial development and operations, regulatory, regulatory filings, FDA interactions, and more. CATO's frequent FDA interactions include experience with the FDA's Division of Drug Oncology Products and Office of Hematology and Oncology Drug Products as well as experience in the design and successful completion of cancer clinical trials for a wide variety of technologies. These technologies include small molecules, biologics, cancer vaccines, devices, as well as drug, diagnostic, and combination products. CATO also has many years of experience working with early-stage start-up biotechnology companies as well as the larger and more established pharmaceutical companies.
CATO and Cato BioVentures operate as a global service provider without borders; thus, CATO seeks to utilize its dedicated personnel for each project on an experience-first basis, avoiding the limitations arising from geography. However, such is CATO's commitment to Texas and understanding that Houston has become an internationally recognized biotechnology and pharmaceutical hub, that CATO has opened an office with a multidisciplinary team to sufficiently serve Texas sponsors.
"Recent funding initiatives offered by the state of Texas and by other prestigious organizations," said Lynda Sutton, President and Cofounder of Cato Research, "are setting the foundations for Texas to emerge as a major biotech hub. We have witnessed this directly through our existing and increasing number of new sponsors who are establishing life science operations within the state. We see a major need and advantage for CATO to offer its regulatory and clinical services to local organizations through the support of a specialized, local team. Cato Research is committed to growing a significant presence for this purpose. In addition, the unique opportunity for Cato BioVentures to support the growth and success of products and technologies being developed within the region has given us added impetus to build a meaningful and functional representation. We are excited that CATO is a part of the biotech scene in Texas and is in a position to make a significant contribution to bringing new and innovative products that will result in improved outcomes and quality of life for cancer patients as well as for those with other major diseases. CATO has been involved in many cutting edge developments in its 25-year history, and we anticipate that collaborations and alliances within Texas will result in many more."
About Cato Research
Founded in 1988 by Dr. Allen Cato and Lynda Sutton and headquartered near Research Triangle Park, North Carolina, Cato Research is a full-service contract research and development organization providing strategic and tactical support for clients in the pharmaceutical, biotechnology, and medical device industries. Services range from design and management of preclinical and clinical studies to submission of regulatory documents required for marketing approval. With a staff of approximately 300 and offices located in the United States, Europe, Canada, Israel, and South Africa, the Cato Research team consistently demonstrates an unsurpassed level of responsiveness, flexibility, attention to detail, and passion for bringing their clients' products to market with speed and cost-effectiveness. For more information about Cato Research, call 919-361-2286 or visit http://www.cato.com.
About Cato BioVentures
Cato BioVentures is the venture capital affiliate of Cato Research, a global contract research and development organization. For over 20 years, Cato BioVentures and
Cato Research have partnered with entrepreneurs, academic institutions, and a broad base of biotechnology and pharmaceutical companies to advance a robust portfolio of successful product development programs. Through strategic CRO service agreements with Cato Research, Cato BioVentures has invested its CRO Service Capital™ in innovative therapeutics, medical devices, and stem cell technologies that improve the pharmaceutical industry's research and development productivity. If strategic outsourcing for development, regulatory, and clinical support is a core component of a company's business plan, then Cato BioVenture's investment model can make a positive difference in the company's overall success. For more information about Cato BioVentures, call 919-361-2286 or visit http://www.catobioventures.com.