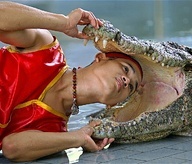 "Being an alligator dentist is not the only dangerous business in America"
Atlanta, Georgia (PRWEB) January 23, 2013
3 Dangerous Employment Trends
1. Rising healthcare costs.
2. Rising payroll costs.
3. Costs associated with an ineffective employee or a "bad hire".
Out of control healthcare costs - It is not a secret that healthcare costs have skyrocketed over the past decade. The percent of median family income required to buy family health insurance in 1987 was 6%, in 2006 it was 17% and today that number continues to rise. From 1999 to 2008 employer sponsored health insurance premiums have increased approximately 5 times faster than wage increases.
Payroll costs on the rise -Unemployment claims can drive up the payroll costs significantly. If you have a year where you pay several unemployment claims, your rate will increase and the payroll for the whole company will be affected. Even a 1% increase in your rate when spread out over the entire payroll of your company can be big bucks.
Costs associcated with a bad hire- Costs associated with an ineffective employee or a bad hire varies from company to company but the national average is $60,000. This bad hire doesn't just have a monetary effect, but also a huge effect on the morale of the department that this person was working in.
So how can a company minimize or fix these costs so that the profitablilty of a company can be improved?
Hire a temporary stafffing company to be an extension of your Human Resource Department. Quality staffing companies will eliminate the risks associated with rising healthcare costs, rising payroll tax expenses and the costs associated with a bad hire.
Select a staffing company that provides a health benefit package that includes: Medical, Dental, Vision, Short-term disability and Term life insurance.
No need to take employees permanent anymore. The Two Main Reasons that company's transitioned employee's from temporary to permanent was for the benefits and to retain good employees. This is no longer necessary when teaming with staffing companies that can provide the benefit package that so many employees desire.
Temporary staffing companies are responsible for all unemployment claims so that a company's unemployment rate is not driven up during seasonal changes in their staff levels.
Bad hires can be eliminated and ineffective workers can be replaced overnight without missing a beat, simply by replacing them with a qualified more productive temporary employee.
Effective use of a tempoary staffing company can make good business sense and reduce the potential impact of these three dangerous employment trends. Each company is going to have different circumstances, so selecting a staffing company that will listen to the specific needs of individual businesses and develop a plan that fits there circumstances will be of great benefit and will make these trends less dangerous.