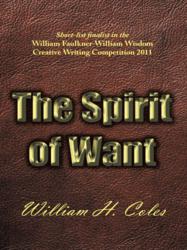 Salt Lake City, UT (PRWEB) January 23, 2013
Courtroom ethics, medical malpractice, religious deception, and irresistible adultery– ethical quandaries rule in the celebrated new novel by multiple award-winning author William H. Coles.
In his eighth work of published fiction, The Spirit of Want, Coles presents a provocative thriller centered around a successful female lawyer who falls in love with a TV evangelist accused of sexually molesting a child. As she struggles to uncover the truth and deal with the cruel effects of unrequited love, a dangerous world of dark secrets is revealed.
Coles is no stranger to the world of dramatic fiction. A former surgeon with a successful writing career, Coles' books and stories have won or been finalists in The Flannery O'Conner Award for Short Fiction, The SEAK Competition, the Sandhill Writers Competition and The William Faulkner-William Wisdom Creative Writing Competition.
Similar to his previous works, Coles' latest novel is inspired by true events and heavily influenced by his former career as a surgeon. Unlike with his most recent medical drama, The Surgeon's Wife, The Spirit of Want takes readers out of the surgery room and into the church, highlighting the medical negligence of a fundamentalist healer and acclaimed religious leader.
With attention to detail and a focus on building unforgettable characters, Coles weaves a gripping storyline that not only questions the ethics of its characters, but also challenges the morals of the reader.
The Spirit of Want
By William H. Coles
Retail price: $1.99 e-Book, $10.95 soft cover
Available at http://www.amazon.com and http://www.barnesandnoble.com
About the author:
William H. Coles is a multiple award-winning author specializing in literary fiction, specifically character-based fiction. Coles is dedicated to establishing literary fiction as a readable, enjoyable, and cost-friendly art form for people around the world. To carry out his mission, the majority of Coles' works are available in audio or digital formats at minimal or no cost. He is also passionate about teaching fiction to writers, and he offers widely used resources on his website, storyinliteraryfiction.com, which has received more than 300,000 visitors in the past year. The site includes essays, interviews with authors and editors, an opinion blog, workshops and fiction examples. Coles also teaches online creative writing workshops and writes instructive essays on the writing process.
Coles is also a former surgeon and expert in medicine and surgery, previously serving as regent for the American College of Surgeons, department chairman at State University of New York School of Medicine, and president of the Association of University Professors in Ophthalmology. He has published two academic textbooks and 61 peer-reviewed papers in the medical field.
Editors: For review copies or interview requests, contact:
Stephanie Perry
317-602-7137 | sperry(at)bohlsengroup(dot)com
(When requesting review copies, please provide mailing address.)