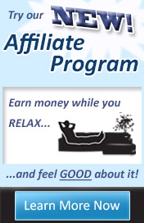 We offer a win-win opportunity..It's so easy and benefits everyone involved.
Atlanta, GA (PRWEB) January 23, 2013
In no time at all business earn commissions through Feel Good Light Ups' new popular website affiliate program that allows members to earn 5% on each sale of a Feel Good Light Ups fluorescent lighting light fixture cover ordered through a website link. It takes just a brief moment to fill out a simple form, set up the link, and then go about one's business as this new addition to a business' website generates revenue all on its own.
"We offer a win-win opportunity with this program," says Mike Lawrence, Vice President of the primary company The Flag Company, Inc. "It's so easy and benefits everyone involved. We get more exposure and sales through other business' websites, and they earn "free" money with little effort on their part."

Along with the easy sign-up process, participants in the program also benefit from:
Instant notification via e-mail of a sale through their account
A password protected page to check sales and update account information
A link to specific sections of the Feel Good Light Ups site or to the home page
Full technical support
A 30-day active cookie: customers have 30 days to make a purchase after linking to a member site
Commissions paid monthly once $25.00 is reached
Availability for website banners and graphics
After this brief testing period on the Feel Good Light Ups website, this same affiliate program has now been expanded to the high-traffic, primary company website of The Flag Company, Inc., coinciding with the rollout of their new website this week.
About The Flag Company, Inc.
As the largest online flagpole supplier, The Flag Company, Inc. offers a complete range of flags and flag-related products in addition to its line of flagpoles and signature Flagpole Beacon. Custom screen-printing and digital printing are available for special events, corporate logos, etc. Stock merchandise includes U.S., state, international, and military flags, and all types of accessories such as bunting, memorial cases, pennants, and more. The Flag Company, Inc. is the nation's largest producer of message flags, offering over 300 different messages used by realtors, restaurants, car dealerships, and any other kind of company imaginable. Toothpick flags—both stock and custom-made to order— are also available. The complete product line can be viewed at http://www.flagco.com. "Feel Good Light Ups," a decorative light lens for fluorescent light fixtures, are now so popular there is a dedicated website at http://www.feelgoodlightups.com. Flagpoles and Flagpole Beacons are featured at http://www.flagpolewarehouse.com.