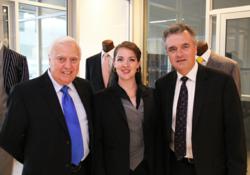 Le Blanc's innovative fashion company is about independence.
Miami, Florida (PRWEB) January 23, 2013
What if someone could manifest the inner fashion designer in another person, and literally make a custom fit Wardrobe based on that person's vision? Well its not a fantasy, now anyone can have just that! The design firm Majella Le Blanc has come up with the idea and it lets people explore their style in the most compelling and personal way.
Deep down everyone is an artist. It may be more apparent in some than others, but it still exists in all of us. When most people think of artists they think of painters, poets, or musicians, but everyone has a bit of an artist inside. Art is about passion, and fashion is art. It is an outward self expression of our individuality.
Marie-Joelle LeBlanc founded her couture fashion company based on this idea. As a young painter LeBlanc found herself drawn to the overall essence of the human form. She had a unique ability to capture ones inner and outer beauty and present it through her canvas paintings. LeBlanc also began to discover her love for fashion and the connection between the two mediums.
In today's world perception is everything. Presenting an outward appearance of success might have the distinct possibility of good things following. The tradition of wearing a pressed suit or power skirt is not dead. Maybe now more than ever it is important to remember that we dress to impress and yet it's also important to maintain our individuality while doing so. That is where LeBlanc comes in.
LeBlanc offers a full clothing line specifically tailored to each client. She utilizes her unique ability to to truly read the aspiration of an individual. She also draws from her extensive international fashion experience to create a couture line for a person that is literally one of a kind.
The great thing about what LeBlanc offers the client is creative control. People can show her pictures, color combinations, and day-to-day input—call it interactive fashion if you will. LeBlanc sketches client's ideas too, and she or someone from the team will even come to the client if necessary. The company will create 5 to 8 pieces. The price starts at around $5000, a total bargain!
LeBlanc's innovative fashion company is about independence, which is why most of her fabrics are sourced from sustainable community projects that employ predominantly disadvantaged women. She believes that everyone deserves a fighting chance to succeed and prove to the world that his or her presence is unique and worthy of a third or even a fourth glance.
http://www.planetfashiontv.com
-Brett Miller