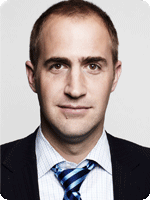 We're delighted to present Michael Slaby — one of the world's most successful social media and technology strategists — as our kick-off keynote speaker at April's giant Pubcon New Orleans 2013 conference. — Pubcon founder and chief executive Brett Tabke
(PRWEB) January 22, 2013
Pubcon, the premier social media and optimization conference, is thrilled to announce that Michael Slaby, the chief technology officer behind one of social media's greatest success stories, will present a major kick-off keynote address at Pubcon New Orleans 2013 on April 22 – 25 at the state of the art New Orleans Convention Center.
During the 2008 presidential election cycle, Slaby served as CTO for Obama for America and as technology director for the presidential transition team. Prior to joining the Obama family, Slaby worked as deputy campaign manager for an alderman in Chicago and spent the 2006 cycle at The Strategy Group.
Slaby will present a major keynote address to kick off a week of social media and search at Pubcon New Orleans 2013 in The Big Easy. "I'm excited to share my experience with Pubcon and am eager to learn from such an incredible community," Slaby said.
Passionate and committed to saving the world, Slaby rejoined the Obama Team in March 2011 as chief integration and innovation officer where he oversees the CTO, CIO, CAO, and ensures effective integration of technology into the rest of the campaign. Most recently Slaby was the digital global practice chair at Edelman and chief technology strategist for TomorrowVentures — Google executive chairman Eric Schmidt's hybrid venture capital fund — where he worked with companies from Fortune 100 to angel-round start-ups on their technology, digital media, and organizational strategy.
"We're delighted to present Michael Slaby — one of the world's most successful social media and technology strategists — as our kick-off keynote speaker at April's giant Pubcon New Orleans 2013 conference," said Pubcon founder and chief executive Brett Tabke.
Slaby has also served as a technology and digital strategy advisor, a board member to several non-profit initiatives including F*ck Cancer, Bright Pink, I Am That Girl, LiveStrong, Citizen Effect, and Jumo, and was named to Crain's Chicago 40 Under 40 List for 2011. Before jumping into politics and campaigns full-time, Slaby spent several years working in multimedia design and development and Web application and platform development with a series of start-ups.
Don't miss this prime opportunity to learn from one of the most successful social media futurists of all time and register today for Pubcon New Orleans 2013. Join Slaby and hundreds of other leading digital marketers who will come together within convenient walking distance to famed Bourbon Street and Harrah's New Orleans, bringing the heart of one of the world's best-known downtown areas alive with top new media and search marketing professionals in a major technology conference loaded with Pubcon's noted multiple-track sessions, leading-edge keynotes, and a Monday, April 22 all-day intensive Pubcon Masters Group training program.
On April 22 – 25 New Orleans will be home to one of the biggest and boldest new media and optimization conferences ever held, featuring Slaby and other leading keynote speakers to be announced soon, all right on the banks of Mississippi River in the city hosting the 2013 NFL Super Bowl at The Mercedes-Benz Superdome.
Learn more and register at http://www.pubcon.com
About Pubcon
Pubcon is a multi-track educational conference hosted by Pubcon Inc. Pubcon, supported by the industry's leading businesses, speakers, exhibitors, and sponsors involved in social media, Internet marketing, search engines, and online advertising, offers an in-depth look at the future of technology presented by the world's top speakers in provocative cutting-edge sessions.
For more information about the conference, contact Brett Tabke at 512-231-8107 or brett at pubcon (dot) com
For more details about sponsorship and exhibition opportunities, contact Strategic Marketing Director Joseph Morin at 512-231-8107 ext 104 or joe at pubcon (dot) com