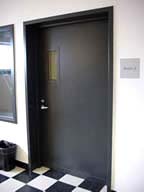 Some Overly door models can even ship in as little as 10 days after ASI receives the purchase order
Richmond, VA (PRWEB) January 22, 2013
For over 50 years, Overly doors have been the preferred choice for architectural acoustical door and window systems with superior design, testing, and manufacturing techniques.
Acoustical Solutions offers the industry's widest selection of sound rated doors, which now includes Overly models with STC (Sound Transmission Classification) ratings ranging from 41 to 57 – the latter blocking as much sound as a solid soundproofed wall.
Along with the standard single swing 3' x 7' doors, Overly sound rated doors from Acoustical Solutions can be made double, oversized, undersized, free swing non-latching, and as tandem doors. The doors are also available in metal or wood finishes, with split frames, windows, and with a Class A fire rating.
Some Overly door models can even ship in as little as 10 days after ASI receives the purchase order:
"We decided to offer quick shipment on the most commonly purchased sound rated doors because the lead time for products like this can be very long – in some cases contractors wait months just for soundproof doors to be on their way to the install site," says Acoustical Solutions National Sales Manager Gary Hudson, "we hope this will simplify the purchasing decision and keep customer's large construction projects from being held up".
Typical applications for sound rated doors include recording and broadcast studios, government and military SCIF rooms, theaters, home theaters, large test cells, and music or distance learning classrooms.
Overly STC 50 model 509589 is offered for a 10, 15, and 30 day quick ship.
Quantity discounts are available.
About Acoustical Solutions, Inc.:
Since 1989 Acoustical Solutions, Inc. has provided the detailed expertise needed to serve the noise control community. Acoustical Solutions, Inc. works with a wide variety of customers from commercial and residential development to worship facilities, recording studios and home theater designers. Acoustical Solutions, Inc. offers the industry's most comprehensive selection of noise control and soundproofing products, including a full line of indoor and outdoor industrial, commercial, environmental and architectural noise control products. For more information please visit http://www.AcousticalSolutions.com, call 1-800-782-5742, or see our media kit.