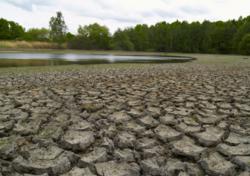 Santa Cruz, CA (PRWEB) January 23, 2013
According to the The National Integrated Drought Information System, the 2013 American Drought is a record-breaking expansion of the drought that started in 2010, after the shortage of rain and snow in the United States caused little or no rainwater and melting snow water to absorb into the soil. The drought covers 80% of the United States Of America, as well as central and eastern Canada.
The Environmental Protection Agency reports that 15% of U.S. residents depend on their own private well for their own water supply and the drought is starting to have an effect on a huge number of private water wells across the U.S.
The drought has inflicted, and is anticipated to continue to inflict, catastrophic economic impact on the impacted states. The shortage of water also has the potential to affect millions of Americans who rely on non-public water wells for their water source.
The normal water levels within an aquifer that supplies a well does not always remain at the same level over time. Droughts, seasonal variants in precipitation, and how rapidly the water is actually pumped out, can affect these water levels. If a well is pumped at a faster rate than the aquifer around it can be recharged through precipitation or underground flows, then normal water levels within the well can be decreased. This is taking place in many regions during the current drought.
What You Can Do If Your Local area Is Impacted
If you live within an region affected by drought, be on the lookout for changes in your well water. In the event that you experience a dry condition and well is pumping air, consult a professional water well water professional to see what the depth of the water is within the well. Usually the well pump can be dropped to take benefit from the existing water table. If the well water quality has changed in recent months and you notice increased amounts of odor, color or sediment, it's possible that this has been the result of a drop in the water table.
Water Treatment Devices Impacted By Drought
A great number of well water owners employ various kinds of water treatment systems to obtain safe and clean water from their wells. Included in this are iron filters, water softeners, turbidity filters, and reverse osmosis "RO" systems. Systems such as automatic iron filter systems, softeners as well as reverse osmosis systems all use water to automatically maintain and clean the treatment system in a procedure known as regeneration, in which the system is back-washed and rinsed to drain totally clean and maintain the treatment system.
Consumers may be unaware how frequently these devices regenerate or how much water is used during the procedure. In the event that the well does not generate adequate flow or pressure to effectively clean and regenerate the water treatment system, the treatment system could eventually foul and/or require premature service.
The free guide has step by step procedures for optimizing water treatment systems in drought areas and can save thousands of gallons of water per year by making adjustments to the existing water treatment or softener system.
Clean Water Systems & Stores Inc. specializes in treating well and bore hole water in North America and has over 8000 customers in over 30 countries. The company provides custom easy-to-install water treatment systems and products in a large variety of different types and configurations including systems for removing iron, manganese, sand, odors, bacteria, turbidity and sediment.