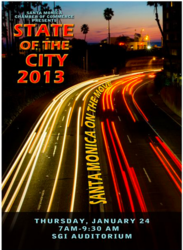 "We are thrilled to feature our new mayor, transportation executives and honor those that have made an impact on our city."
Santa Monica, CA (PRWEB) January 22, 2013
The Santa Monica Chamber of Commerce will hold their annual State of The City event at SGI-USA World Culture Center on Thursday, January 24. The breakfast program and reception will gather city leaders with residents and members of the business community while providing an inside look at the EXPO coming to Santa Monica in 2015.
Newly elected Mayor Pam O'Connor and City Manager Rod Gould will deliver the "State of The City" address, providing insights on the local impact of the current global and state economy in Santa Monica. Richard Thorpe, CEO of Exposition & Construction Authority and Martha Welbourne, Executive Director of Planning for LA Metro will serve as keynote speakers.
State of the City attendees can mix and mingle among members of the business community, city leaders, and residents. In addition, the Economic Excellence Award will be presented to the American Film Market for their continued support of the Santa Monica community.
Sponsors of the 2013 State of the City include:  
SGI-USA, Downtown Santa Monica, Santa Monica Convention & Visitors Bureau, Santa Monica Place, Huntley Santa Monica Beach Hotel, City of Santa Monica Office of Sustainability & the Environment, The Bradmore Group, Central Parking, Harding Larmore Kutcher & Kozal, LLP Metro Cab Company and Pacific Park on the Santa Monica Pier.
"This year's event will not only focus on the issues of mobility and finding new solutions such as the Expo to mitigate congestion and traffic, but we'll also hear from business leaders discussing how they must keep moving forward," said Laurel Rosen, President and CEO, Santa Monica Chamber of Commerce. "We are thrilled to feature our new mayor, transportation executives and honor those that have made an impact on our city."
State of The City will take place on Thursday, January 24, 2012 from 7:00 am to 9:30 am at SGI-USA World Culture Center at 525 Wilshire Blvd in Santa Monica. More information can be found at http://www.smchamber.com/SOTC. Tickets can be purchased at http://sotc2013-eorgf.eventbrite.com/ or by calling 310.393.9825.
The Santa Monica Chamber of Commerce advocates and represents business' interests and issues affecting the community. They provide the environment to help members prosper and succeed through a proactive working partnership with all levels of government and community organization