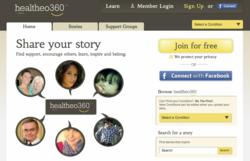 We are honored to be selected as one of ten voted as healthcare's most innovative 2012 companies by our peers.
Flemington, NJ (PRWEB) January 22, 2013
healtheo360, a newly-formed group of online support community for people with various health conditions, has been distinguished as one of 2012's Most Innovative Companies by PM360, an influential pharmaceutical marketing publication.
healtheo360 was started in 2012 with the vision of bringing patients and their caregivers, family and friends together so they could share their health related stories and learn from others who are "Just Like Them".
The purpose of healtheo360: Provide members with a community to find support, encouragement, inspiration and a sense of belonging. Some of the conditions that healtheo360 provides support communities for includes autism, Alzheimer's Disease, breast cancer, brain cancer, diabetes, epilepsy, hip replacement, heart disease, leukemia, prostate cancer and Parkinson's Disease with additional conditions added each month.
In its Annual Outstanding Innovators issue, PM360 spotlighted healtheo360 in its group of the pharmaceutical and life science industry's most visionary and cutting-edge companies, divisions, services, products and people.
"This year we received an overwhelming number of nominations for innovation, proving that there is no shortage of new ideas and trailblazers in this industry," said Anna Stashower, CEO & Publisher, PM360. "healtheo360 with its patent pending caring network for patients, caregivers, family members and friends is one of the most innovative social media solutions we've seen. When we listened to the stories from the very remarkable members of healtheo360's community, it truly is: Real People. Real Stories. Real Life."
Founded in 2012, healtheo360 is a patent pending, rapidly growing, online Caring Network providing Virtual Social Therapy™ to its members. Patients, caregivers, family members and friends share their stories to inspire, motivate and support each other and anyone affected by a serious health condition.
Healtheo360's mission is to provide Virtual Social Therapy™ to its members designed to supplement cognitive behavioral therapy as well as local in person support groups," said healtheo360 Chairman David Duplay. "healtheo360 gives its members the ability to share their stories via video or text. Members can follow each other on their journey and also have the ability to participate in various support groups ranging from condition to lifestyle focused."
"healtheo360 is an important social resource for patients and caregivers to understand and manage their conditions as well as receive relevant medical content from third-party, authoritative sources through its support group network. We are honored to be selected as one of ten voted as healthcare's most innovative 2012 companies by our peers," added Duplay.
For additional information contact:
dave (at) healtheo360 (point) com
http://www.healtheo360.com