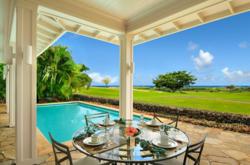 Buyers are mining for and finding Kauai properties that deliver authentic architecture, style and a high quality environment.
Poipu Beach, Kauai, Hawaii (PRWEB) January 22, 2013
Year end Kauai real estate data for 2012 shows increased demand for Kauai condos and fine Kauai properties at Poipu Beach compared to previous years. A new report available from Kauai Heritage Properties, prepared by Hannah Sirois (PB), one of Hawaii Business' top 100 realtors in 2012 and Peter Sirois (R), includes a forecast for 2013 and strategic information for buyers and sellers.
Residential Kauai Property Sales at Poipu Beach Grew 67% Percent in 2012.
With 40 Poipu Beach residential Kauai property sales in 2012 compared to 24 in the prior year, the premier Kauai resort market of Poipu Beach has turned the corner according to Hannah Sirois, Principal Broker of Kauai Heritage Properties LLC. Sirois shares that "Buyers are mining for and finding Kauai properties that deliver authentic architecture, style, and a high quality environment."
At the start of 2013, their Kauai real estate report shows some of the best values will be off-oceanfront Kauai properties with a median price point near 1.5 million. There are currently 15 total Poipu Beach, Kauai homes for sale priced between $1 and $2 million dollars.
A fine example of current value is a new 3 bedroom ocean view Kauai property estate on the Kiahuna golf course available at $1,695,000 with premium amenities and ocean views over the pool showcasing the indoor and outdoor lifestyle that Kauai real estate buyers desire.
Luxury oceanfront Kauai condos at Poipu Beach saw aggressive buying across far fewer luxury offerings than expected. Kauai condo owners at Whalers Cove, which captured pricing of $1,000 square foot in 2012, can expect values to push higher going forward.
A deluxe alternative with developer inventory and upscale amenities inclusive of fitness and clubhouse is Villas at Poipu Kai, a newcomer to this market, with two listings in escrow thus far in 2013.
Kauai Real Estate Report Shows Increases Island Wide.
Combined total Kauai property sales for all residential, condominium and Kauai land sales above $750,000 totaled 138 units in 2010 and 137 in 2011. The same group topped out at 163 total sales in 2012, according to Sirois. The near 22% increase in sales numbers was aided by a record increase in tourism numbers to Hawaii with 984,734 visitors coming to Kauai through November.
More information and a complimentary copy of their Kauai real estate report and forecast is available on-line from Kauai Heritage Properties.
About Kauai Heritage Properties, LLC. - Top 100 Realtors in Hawaii.
Recently named one of Hawaii Business Top 100 Realtors in 2012, Hannah Sirois (PB), and Peter Sirois (R), deliver some of the most sought after Kauai real estate properties to the market. With a combined 43 years of Kauai real estate expertise, and over $700 million in closings, their market knowledge is reliable and sought after. Premier Kauai listings and Kauai developer inventory are the Sirois' specialty. For more information, please contact Kauai Heritage Properties LLC and Hannah Sirois (PB) and Peter Sirois (R) at 808.742.1191