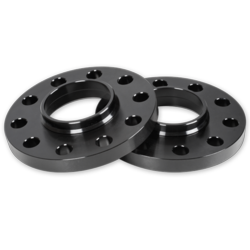 Riverton, UT (PRWEB) January 21, 2013
Raceland today announced the release and availability of their newest addition to their wheel spacer line-up with their new Mazda wheel spacers.
The Raceland Mazda 4x100 Wheel Spacers are made from high-quality hardened aluminum and have been anodized for appearance and corrosion resistance. Each spacer is hub centric to ensure proper wheel seating (54.1mm) and will fit Mazda models with a lug pattern of 4x100 with 5mm, 10mm and 15mm options available. To ensure their quality, these spacers have been tested and will fit the Mazda Miata NA & NB (1989-2005) models .
Wheel spacers are often used when the wheels do not carry a high enough offset to close the gap between the tire and the fender of the car and are ideal for those looking to tailor the wheel fitment of their cars for a more flush look. With the use of the wheel spacers, the hub of the vehicle is extended and as a result, the wheel will be set a a wider distance, resulting in a wider stance.
Another reason to use wheel spacers is to correct wheel clearance issues. A common issue that many car owners encounter when upgrading their suspension is that the wheel or tires can come into contact with the new suspension components. With that use of wheel spacers, you can set the proper distance from any suspension components, preventing damage to the car.
The spacers available come in a set of two and also include the required extended wheel studs needed when using wheel spacers on Honda and Acura fitments. Also included with the wheel spacers is a two year warranty and thirty day money back guarantee.
About Raceland:
Raceland USA was founded in 2009 with the objective to provide car enthusiasts performance parts at an affordable price by selling direct. What that means is you are buying quality products at or below distributor pricing.For more information on these spacers and other Raceland products, visit http://www.Raceland.com.