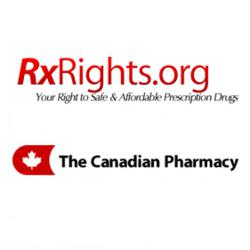 I have severe COPD, but have to wait to get on Medicare for 2.5 years. My medicine is about $700 a month total in U.S. I cannot pay that. So, without being able to get meds online, there would not be much hope for me. ~Ronnie
Winnipeg, Manitoba (PRWEB) January 22, 2013
In a recent survey carried out by RxRights, a national coalition working to protect American access to sources of safe and affordable medicine, Americans were surveyed to find out why they import prescription drugs. In the past pharmaceutical companies have argued that largely people import prescription drugs to avoid the need for a prescription or to obtain illegal medications, but international pharmacies such as The Canadian Pharmacy, a CIPA member and RxRights supporter, have always known this to be untrue. David Zimmer, President of The Canadian Pharmacy, stated "We serve 1000s of Americans every year who order genuine medications by prescription. Our customers use our pharmacy because we provide the same level of service they expect from their local pharmacy but with significant cost savings that allow them to afford the essential medications they need."
The high cost of medications and insurance coverage gaps are a common problem throughout the U.S. with low income families, students and the retired often hit the hardest. In an effort to better understand those affected, RxRights have also been collecting the real life stories of those throughout the U.S. who are struggling to afford the high price of medication. Once such story is that of Ronnie in Texas:
"I have severe COPD, but have to wait to get on Medicare for 2.5 years. My medicine is about $700 a month total in U.S. I cannot pay that. So, without being able to get meds online, there would not be much hope for me." ~Ronnie
These accounts of U.S. citizens struggling with their medication costs were also reflected in the RxRights survey with 77.6% of respondents being between the ages 50-75, nearly half (47.5%) of respondents having annual incomes of less than $50,000, and 28.1% of respondents buying their medications from international online pharmacies because their insurance did not cover their medication. RxRights plan to carry this information forward to legislators to continue effect changes in public policy. "We are delighted that RxRights carried out this important survey highlighting both the medication cost issues faced by many Americans and the importance of Canadian and International Pharmacies in helping to safely address these issues by providing an essential and cost effective service." stated David Zimmer of The Canadian Pharmacy.
The Canadian Pharmacy has been providing its customers significant cost savings on their medications for over 10 years. As a CIPA verified online Canadian pharmacy and international prescription service The Canadian Pharmacy provides substantial savings on the cost of prescription medications.
About The Canadian Pharmacy:
Located in Winnipeg, Manitoba, The Canadian Pharmacy employs a dedicated team of licensed and experienced pharmacists, physicians, technicians, and customer service representatives to provide our customers with any and all information they may desire about their medications and their suggested use. The Canadian Pharmacy is a Member of the Canadian International Pharmacy Association (CIPA), the Manitoba International Pharmacist's Association (MIPA), is a 5-Check Rated Pharmacy by PharmacyChecker.com and a member of the Better Business Bureau.
The Canadian Pharmacy's mission is to provide safe, affordable access to high quality pharmaceutical products and services.