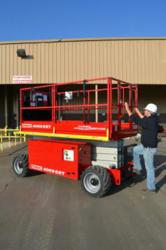 "MEC really has carved out a niche market here with a high quality product."
Seattle, Wash. (PRWEB) January 22, 2013
Star Rentals, Seattle, Wash., has committed to purchasing the first truckloads of MEC's all-new Crossover 4069 ERT, a battery-powered rough-terrain scissor lift with 40-ft. platform height and 800-lb. capacity.
MEC will officially roll out the new model at the American Rental Association's The Rental Show in February.
Star Rentals is the largest rental company in the Pacific Northwest, operating 18 locations in Washington and Oregon. Its offerings include everything from electric hand tools to cranes.
Bob Kendall, president of Star, says he is excited to welcome the new MEC Crossover 4069ERT scissor lifts to Star's fleet, based on the company's success with other MEC Crossover models.
"We had been looking for a replacement for our existing 41-ft. Upright electric scissor lifts, which needed to be retired," says Kendall. "We have a unique market here in the Pacific Northwest for big-deck electrics."
Kendall added, "At the time, MEC had the 3772ES equipped with 4WD and self-leveling outriggers. It fit pretty closely to what we were looking for, so we decided to try a truckload and see how it went. Our customers liked those units so well that they started asking for them by name."
That success led Star Rentals to the purchase more truckloads, and Kendall says, "We haven't looked back."
Last year, Star purchased some of MEC's new 26-ft. Crossover 2659ERT scissor lifts. Kendall says, "They just disappeared, with customers asking for more."
Kendall says that customers' enthusiastic acceptance of previous MEC Crossover scissor lifts made committing to the new 4069ERT "a no-brainer!"
Kendall especially likes the 4069ERT's super-low 55-in. entrance height and the pipe rack option. He closed by saying, "MEC really has carved out a niche market here with a high quality product."
About Maximum Capacity Media
Maximum Capacity Media's objective is to deliver information for the selection, maintenance and safe use of cranes, hoists, material handlers and aerial work platforms to the North American construction and industrial marketplaces. Our portfolio includes print publications, digital media and live events. Its comprehensive and authoritative print magazines include Crane and Rigging Hot Line, Industrial Lift and Hoist and Lift and Access magazines.