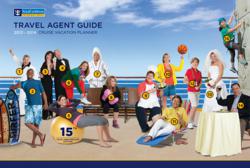 Salem, NH (PRWEB) January 22, 2013
Laura Tentas, a cruise travel professional with Cruise Travel Outlet, is one of only 15 travel agents from across North America to be included in a new industry publication from cruising powerhouse, Royal Caribbean International. The publication is Royal Caribbean's annual "Travel Agent Guide" and is a guidebook for any travel agent booking cruises through Royal Caribbean International in 2013-2014. This is the 15th year the Travel Agent Guide is in print.
Tentas won a Facebook contest to be selected as one of the 15 lucky travel professionals.
As part of the contest, participants posted pictures of themselves and their previous Travel Agent Guide along with a paragraph about why they love Royal Caribbean's Travel Agent Guide. The winners were chosen based on creativity, originality, and their current level of sales with Royal Caribbean. All 15 winners were flown to Miami in November for a photo shoot and dinner at Vicki Freed's home – Freed is a senior-level vice president at Royal Caribbean.
In the photo shoot, each of the 15 travel professionals is pictured taking part in an activity that can be enjoyed aboard a Royal Caribbean ship. For example, Tentas is seen as a fitness buff working out on a stability ball. Representing the fitness center aboard Royal Caribbean ships, it's just one example of the many activities Cruise Travel Outlets' clients can enjoy during a cruise vacation.
With nearly one million copies printed and distributed to date, the Travel Agent Guide is part of Royal Caribbean's efforts to educate travel agents about the cruise line. The T.A.G. includes information about destinations, itineraries, ships (including deck plans), sample menus, cruise line policies and much more, making it easier for the cruise agent to decide which ship and itinerary is the best fit for a particular client.
Tentas says being part of this publication adds credibility to her career as a travel professional. "To appear on the front page of a prestigious industry publication is certainly an honor. More importantly, it gives my clients peace of mind that I am available to guide them to a cruise vacation that best suits their budget and tastes – whether with Royal Caribbean or with the many other cruise lines I work with on a daily basis," said Tentas.
The T.A.G. is being distributed now to travel agents across Canada and the United States. Although it is not sent to consumers, the public can get a closer look at the pictures as well as view a behind-the-scenes video of the photo shoot here: http://bit.ly/RCI_TAG. Tentas is number 5 in the group photo.